American DJ - Pro Event Table II
DJ Stands
Usually shipped within 4 days
+infos
Added to the catalog on
20/11/2017
Professional Stage Front American DJ Pro Event Table II. Compact, foldable and made in aluminum, it will be easily transportable. Customizable with a logo, this is the ideal product for mobile DJ use!
American DJ Pro Event Table II

Professional stage front

Made in aluminum

Compact and foldable

Front front with logo ADJ

Possibility of putting your own logo on the front white

Table height : 880 mm

Tube 32 mm

Plate dimensions: 1200 x 580 mm

Front panel dimensions: 635 x 571,5 mm

Dimensions: 1270 x 610 x 1155 mm

Weight: 22Kg

Option:

Trays side panels: PRO SHELF

Extendable fabric: PRO ETS white scrim

Carry bag: PRO ETB
User's advice DJ Stands
Pro Event Table II American DJ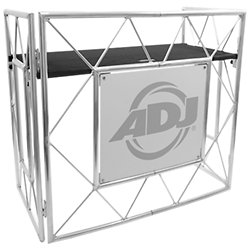 /5
9 User's advice
Repartition des notes
Cliquer pour filtrer
Produit conforme, facile d'utilisation. Laisse suffisamment de place pour y poser le matériel Djing enceintes.
American DJ - Pro Event Table II
American DJ - Pro Event Table II
Usually shipped within 4 days
+infos
Added to the catalog on
20/11/2017
Since 1985, American DJ has continued to develop and improve its line of equipment for mobile entertainers, and its outstanding line of DJ gear is no exception. From gobo projectors to DJ stands, lighting effects to LED PARs to flight cases and more, you can be sure that ADJ has the tools you need to make your talent shine!