Behringer - PMP550M
Powered Mixing Desk
with eco participation: 0,50 €
Out of stock
Contact us for delivery times
Added to the catalog on
25/07/2017
Behringer offers the PMP550M an ultra light and compact rackmount amplified mixer. It delivers 2 X 250 Watts at 4 Ohm, and includes 5 microphone inputs, one input, a Klark Teknik multi-effects with 25 presets including the famous FBQ anti-feedback. Despite everything, it weighs only 4.5 Kg!
Behringer

amplifier PMP550M

Class D amplification

Power: 2 X 250 Watts under 4 Ohm

Klark Teknik Multi Effects with 25 presets including reverb, chorus, flanger, delay ...

Integrated Anti Feedback System 5 Channels with Microphone / Line Input on XLR or Jack 6.35

USB Input for HF System Behringer only

mini jack input 2 band EQ per channel

7 band general EQ

Amplified outputs in Jack 6.35

Included rack kit

Dimensions:

3 years warranty

Developed by Behringer Germany
RMS power under 4 ohm / channel
User's advice Powered Mixing Desk
PMP550M Behringer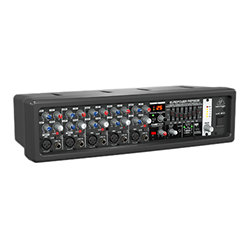 /5
2 User's advice
bien sur toute la ligne .facile d utilisation sur toute la ligne
Behringer - PMP550M
Behringer - PMP550M
with eco participation: 0,50 €
Out of stock
Contact us for delivery times
Added to the catalog on
25/07/2017
The very famous BEHRINGER brand needs no introduction! The DJX 750 and the new DJX 900, the new NOX mixing desks and the DDM 4000, passive and active loudspeakers from the B series, EP, EPQ and EPX amplifiers, the very competitive XENYX mixers by Behringer, TRUTH studio monitors series, EPA portable PA… Quality at an unbeatable price!