Fender - RUMBLE 100 V3
Bass Combo
REFERENCE : ZFEN2370406900
Added to the catalog on
05/02/2014
Bass Combo Fender Rumble Series V3 100 Watts of power, Input Stereo Headset and Speakers 12-inch
Fender Bass Combo

Rumble Series V3

100 Watts

Impedance 8 Ohms

Contôles: Volume, Bass, Mid, Treble.

Input Stereo Headphone

SPEAKER 12 inch

Ref: ZFEN2370406900
The series of bass amps Fender Rumble offers us a powerful leap forward in the evolution of amp for bass guitar. The Fender Rumble possess a very balanced sound ideal for all music styles and in every situation. Head combo or cabinet, you will find necessarily the Fender bass amp for you.
User's advice Bass Combo
RUMBLE 100 V3 Fender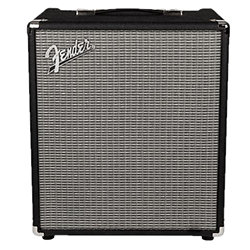 /5
8 User's advice
Repartition des notes
Cliquer pour filtrer
Compact et puissant Léger
Je m'attendais à plus côté prix ..
Léger et puissant, très bon son!!!
Acheté comme deuxième ampli pour les petites salles. Parfait et léger : 10kg à peine.
Fender - RUMBLE 100 V3
Fender - RUMBLE 100 V3
REFERENCE : ZFEN2370406900
Added to the catalog on
05/02/2014
Since 1946,
Fender
has been making instruments and amps that have changed the course of music history. The
Telecaster
,
Stratocaster
,
Precision Bass
and
Jazz Bass
are known around the world as the instruments that started the rock revolution, and they continue to be prized by
musicians
and
collectors
today.
Everyone from
beginners
and amateurs to the world's most
famous artists and performers
have used
Fender instruments
and
amps
, making the company not only a revered name in the music industry, but also a cultural icon.
SonoVente.com also offers
limited edition Fender
guitar models. Be sure to claim yours before it sells out.