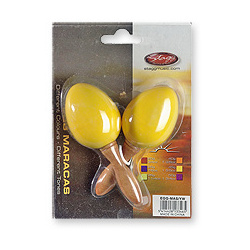 Stagg - EGGMA SYW
Hand Percussion
Usually shipped within 3 days
+infos
Added to the catalog on
03/11/2011
Pair of plastic egg maracas. YELLOW
Pair of plastic egg maracas. YELLOW
A Real Instrument. A gift idea. Means of Developing a sense of rhythm in your child. A promotion tool for companies like évenementiel ...
Stagg - EGGMA SYW
Stagg - EGGMA SYW
Usually shipped within 3 days
+infos
Added to the catalog on
03/11/2011
From drums, cymbals, percussion instruments, stands, speakers, electric guitars and more, Stagg offers a wide variety of musical instruments and accessories. Since 1995, Stagg has been committed to helping people from all walks of life realize their full musical potential through its comprehensive line of instruments and accessories.