Adam Hall - Support pour par 16/36/56/64 38163
Lighting Accessories
Usually shipped within 5 days
+infos
Added to the catalog on
28/03/2014
Stand by 16, 36, 56 or 64, can be used to secure the floor or wall. Made of black plastic anti-shock.
Adam Hall 38163

Mounting Bracket Projectors PAR16 / 36/56/64

Can be used to secure the floor or wall.

The fixing of the support PER is achieved through a screw which passes through the center of the support and nuts.

The support also has three fixing holes (10 mm diameter) to be fixed to the floor or wall if desired.

Simple and stylish

Made of black plastic anti-shock.

Dimensions: 27.5cm, Height: 4cm.

Weight: 2.6 kg
Well finished professional accessories, this is what Adam Hall offers! Everything you need, be it hardware or drawers rack through the sheets, Strip and stands, you will find everything you need to equip yourself with Adam Hall
Adam Hall, founded in 1980, develops activities include the production, wholesale and distribution of spare parts for the construction of logistics containers, also called flight cases. Adam Hall also distributes a wide range of professional audio products: sound equipment, broadcasting and wireless solutions, Public Address speakers, audio accessories such as cables, tripods, the instrument covers and suitcases, audio connectors and supplies ... In addition, Adam Hall offers a lighting equipment and professional DJ Cameo met under the brand.
User's advice Lighting Accessories
Support pour par 16/36/56/64 38163 Adam Hall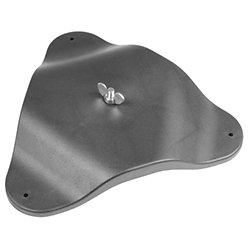 /5
1 User's advice
Très bon produit, belle finition.
Adam Hall - Support pour par 16/36/56/64 38163
Adam Hall - Support pour par 16/36/56/64 38163
Usually shipped within 5 days
+infos
Added to the catalog on
28/03/2014