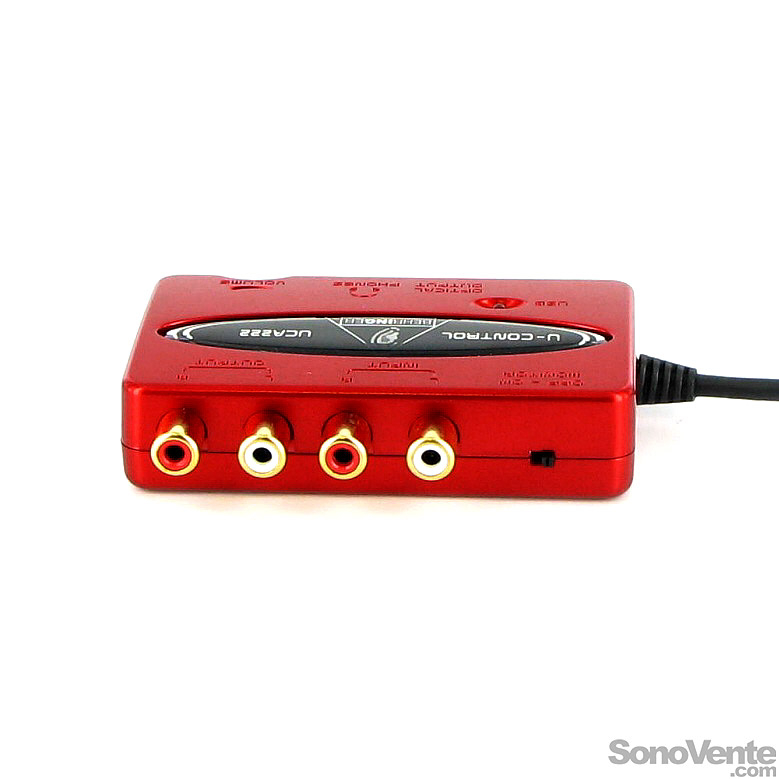 Behringer - UCA 222
Audio Interfaces
with eco participation: 0,50 €
Out of stock
Contact us for delivery times
Added to the catalog on
30/10/2013
USB Audio interface UCA 222: ideal to start the MAO
Audio interface UCA 222 ultra versatile allowing you to connect your instruments, your mixer, etc. to your computer, either for reading or recording

Works with PC or Mac - no setup or drivers required

High-resolution 48 kHz converters for exceptional audio quality

Stereo headphone output with level control listening and allowing you to listen to the inputs and outputs

S / PDIF additional optical digital audio for direct conversion

Interface USB-powered - no external power required

High quality components and exceptionally rugged construction for an ultra reliable product

ENERGY XT 2.5 software downloadable from the BEHRINGER website

Conceived and designed by BEHRINGER Germany
USB Audio interface UCA 222: 2 inputs and 2 outputs for ultra-low latency, digital audio output and comes with a large number of software
User's advice Audio Interfaces
UCA 222 Behringer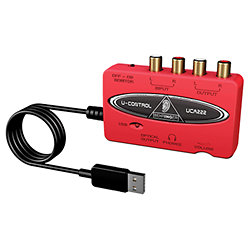 /5
15 User's advice
Repartition des notes
Cliquer pour filtrer
Bon rapport qualité prix. Mais usage limité à l'enregistrement d'un canal extérieur. Ex, un instrument.
Je connecte mon PC à ma chaîne à la place d''un magnétophone. Cela me permet d'écouter la radio en même temps que le son du PC. Pour cela, il faut une entrée ligne de qualité dont était dépourvu mon PC portable. L'UCA 222 me permet de faire cela parfaitement. Je n'entends aucune différence en écoutant la radio directement ou bien en passant par le PC. Je n'ai pas eu besoin d'installer de driver. Le seul réglage pour mon utilisation en particulier est d'activer "écouter le périphérique" dans les paramètres Windows. L'installation a donc été très rapide. Le câble USB est assez long : environ 1.5 m.
matériel conforme rapport qualités prix correcte!
utilisation avec mon iPad
Behringer - UCA 222
Behringer - UCA 222
with eco participation: 0,50 €
Out of stock
Contact us for delivery times
Added to the catalog on
30/10/2013
The very famous BEHRINGER brand needs no introduction! The DJX 750 and the new DJX 900, the new NOX mixing desks and the DDM 4000, passive and active loudspeakers from the B series, EP, EPQ and EPX amplifiers, the very competitive XENYX mixers by Behringer, TRUTH studio monitors series, EPA portable PA… Quality at an unbeatable price!