BoomTone DJ - LT3
Trussing Sets
Added to the catalog on
29/11/2013
High Tech, Portable Steel Truss system BoomToneDJ LT3 tube 38 mm. 4m height, truss length 3m, maximum load 40 kgs
BoomToneDJ LT3

High Tech, Portable Steel Truss system

2 T bars and central truss

Max load : 40 kg

Diameter of Tube 38mm

Black finish

Tripod foldable feet

Includes locking pins

Easy set up and high stability

2 feet foldable tripod, 3 height adjustment tubes.

Screws for 34 rigging points

Easily fold up for transport and is ideal for mobile DJs or small stage productions

Safety Pins

2 T bars 1.20 m large with screws

2 Black steel tri pods + 2 added T Bars on top to hang more lights + 3m central truss (2 x 1,50m)

1.50 m bridge

Maximum height 4m

Weight: 15 kg

Dimensions of the box : 1550x290x220 mm
User's advice Trussing Sets
LT3 BoomTone DJ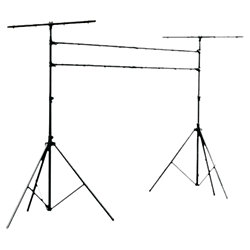 /5
25 User's advice
Repartition des notes
Cliquer pour filtrer
Je reviendrai à la prochaine
Utilisés pour installer des pendrillons de fond de scène 6x4m et des Par à LED dans des concerts, très bon rapport qualité-prix et surtout un des rares modèles à monter à 4m du sol, indispensable pour être suffisamment au-dessus de praticables montés à 60 ou 100 cm... Montage rapide, les pièces coulissent bien, le serrage est efficace (à manipuler avec douceur et sans forcer pour ne pas abimer les pas de vis et les colliers de serrage plastiques, on reste sur du matériel "léger").
Bon rapport qualité / prix.
Facile à monter, super pour les débutants en animation. Un rapport qualité prix au top.
BoomTone DJ - LT3
BoomTone DJ - LT3
Added to the catalog on
29/11/2013
BoomTone DJ offers a wide range of speakers, wireless microphones, audio accessories, structures, accessories for musical instruments, racks, boomers and light sets...
BoomTone DJ products, developed in France, all benefit from a demanding and permanent quality control to always offer you the best quality/price ratio on the market.