Cordial - CFU 3 PC
Twin Cable
with eco participation: 0,02 €
Added to the catalog on
23/08/2016
audio cable strap (3m 2 RCA male / 2 Jacks 6.35mm asymmetric mono male) of the INTRO series, equipped with REAN gold connectors designed by Neutrik. High reliability and excellent transmission quality.
Cordial CFU 3 PC

Audio cable Double

Connectors: 2x RCA male / 2x Jacks 6.35mm male mono unbalanced

Series Intro

Sheets: REAN gold (Licensed Neutrik)

Length: 3 meters

Section cable 2x 0.22 mm²

conductors: 28x 0.1mm bare copper

resistance: 80Ω / km

Capacity: 80 pF / m

Envelope: matte PVC

Diameter: 4.3mm

cable Color: Black

biodegradable packaging Cordial is committed to preserve the planet!
True to the philosophy of Cordial, audio cable INTRO range are designed with the greatest attention, in view of obtaining a high-quality cable. The connectors REAN employees, manufactured under license by Neutrik, are a guarantee of high reliability and excellent transmission quality.
User's advice Twin Cable
CFU 3 PC Cordial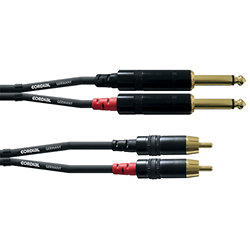 /5
2 User's advice
Bonne qualité de produit, une superbe télévision avec mauvais signal, cela ne vaut rien ! et bien là c'est pareil, il ne faut pas négliger le transport du signal !
Cordial - CFU 3 PC
Cordial - CFU 3 PC
with eco participation: 0,02 €
Added to the catalog on
23/08/2016