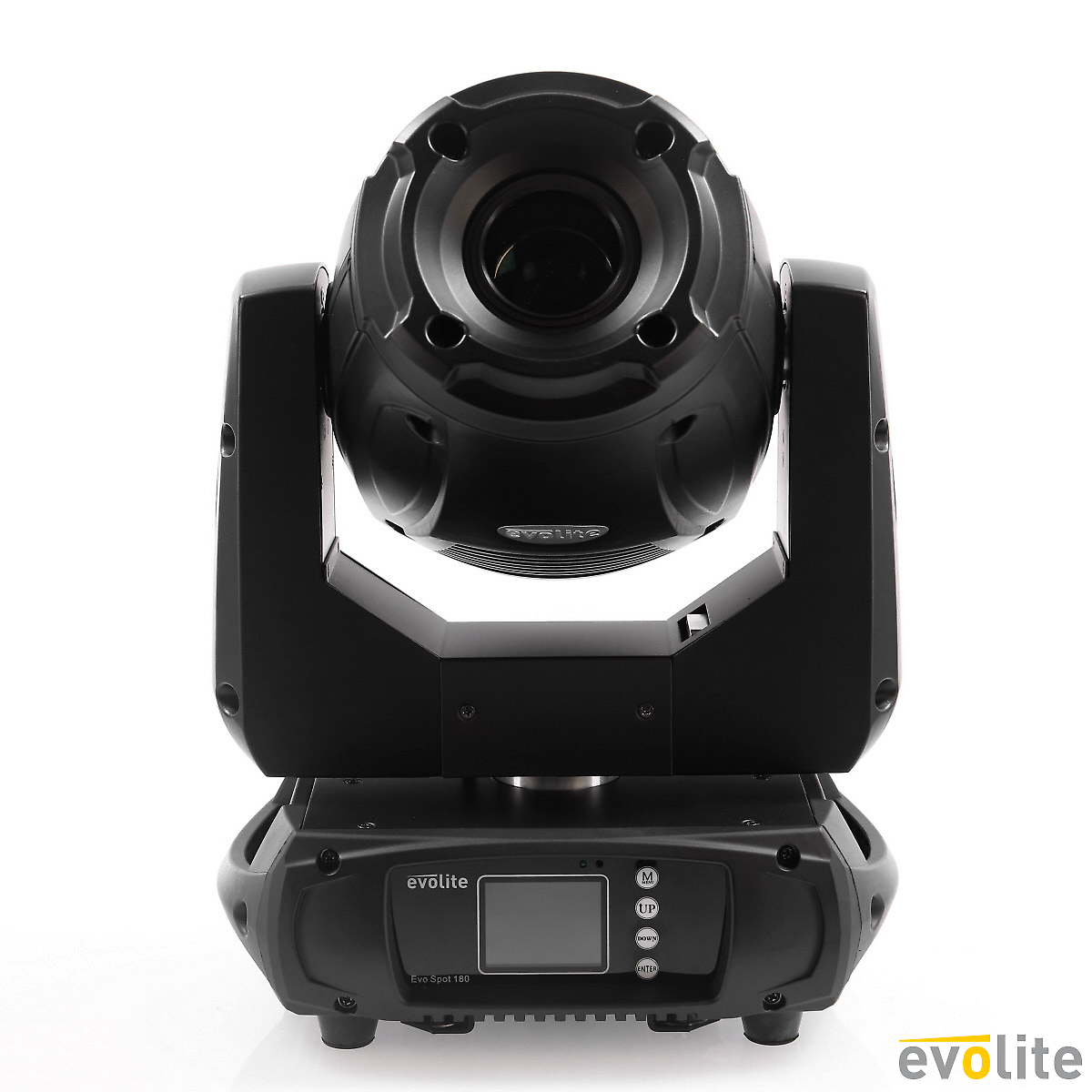 Evolite - Evo Spot 180
Moving Heads Spot
with eco participation: 0,50 €
Added to the catalog on
02/10/2018
OSRAM Evolite EVO SPOT 180 180W LED spotlight bezel, an ultra-efficient luminous flux. Ideal for service providers, controllable in DMX, musical or master/slave modes, impressive luminous flux: 27,840 lux at 1m ! Wireless Solution DMX W-DMX receiver included.
LED spotlight type binaural

PAN rotation 360°/540°/630° and TILT 90°/180°/270° rotation

Equipped with a 180W white LED 7500K

Control modes: DMX cable, wireless DMX (Wireless Solution), automatic, automatic with sound detection.

Equipped with a Wireless Wireless Solution DMX receiver

2 DMX modes: 14 or 16 channels

Beam angle: 16°.

Ultra clear optics

Very dynamic and varied Automatic Modes

Totem Modes (180°)

Wheel of 7 colors + white

Wheel with 6 interchangeable rotating glass Gobos

Wheel with 8 fixed metal gobos

3 faceted rotating prism

2.4"" TFT color display

Luminous flux: 27 840 lx @ 2.5m

Luminous flux: 6400 lx @ 5m

Comes with omega mounting brackets

Cooling by forced ventilation, thermo regulated

Power consumption: 225W max

Dimensions of the device: 307 x 224 x 418 mm

Carton dimensions: 380 x 280 x 505 mm

Gross weight: 12.56 kg

Net weight: 10,38 kg
Pros of the product:

- Backlit LCD display
- High speed of movement
- Quality optics for a very sharp beam
- Impressive light output
- Prism 3 facets
- 6 interchangeable glass gobos + 8 metal gobos
- Wireless Wireless DMX receiver (W-DMX)
Pan & Tilt
Pan - 540°/630° ; Tilt - 270°
Evolite - Evo Spot 180
Evolite - Evo Spot 180
with eco participation: 0,50 €
Added to the catalog on
02/10/2018
Lighting products for the most sophisticated events and professional's entertainment! Evolite's French engineers have designed a range of highly reliable professional lighting products at a very affordable price. Lyres and scans, lasers, fog machines, architectural projectors... all equipped with the latest technologies for amazing light shows!