Fender - Harmonica Blues Deluxe en Do
Out of stock
Contact us for delivery times
Satisfied or refunded until 15/01/2024*
REFERENCE : ZFEN0990701001
Diatonic Harmonica
Harmonica Blues Deluxe Fender 10 holes in C
ARTICLE N° 46053
diatonic Fender

10 holes

Tone Do

Model Blues Deluxe

Chrome metal finish

Exchangeable brass plate

Plastic Combs

Supplied in plastic carrying case

Cleaning Cloth provided

Reference: 099-0701-001
Harmonicas Fender are expected to last and accompany you everywhere. Whether you are an expert or beginner, their precise sound you necessarily should.
Harmonicas "Blues Deluxe" Do come in tones (C), G (G), La (A), D (D), F (F), Mi (E) and B flat (Bb).
The Fender Blues Deluxe harmonicas are diatonic harmonicas of 10 holes. Delivered in their case, they will follow you everywhere!
User's advice Diatonic Harmonica
Harmonica Blues Deluxe en Do Fender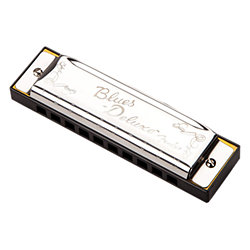 /5
3 User's advice
Repartition des notes
Cliquer pour filtrer
J'ai offert cette harmonica à ma fille qui joue pour faire je peux de brut donc je ne peux pas l'évaluer
Fender - Harmonica Blues Deluxe en Do
Fender - Harmonica Blues Deluxe en Do
Out of stock
Contact us for delivery times
Satisfied or refunded until 15/01/2024*
REFERENCE : ZFEN0990701001
Since 1946,
Fender
has been making instruments and amps that have changed the course of music history. The
Telecaster
,
Stratocaster
,
Precision Bass
and
Jazz Bass
are known around the world as the instruments that started the rock revolution, and they continue to be prized by
musicians
and
collectors
today.
Everyone from
beginners
and amateurs to the world's most
famous artists and performers
have used
Fender instruments
and
amps
, making the company not only a revered name in the music industry, but also a cultural icon.
SonoVente.com also offers
limited edition Fender
guitar models. Be sure to claim yours before it sells out.