Fender - Harmonica Blues Deville en La
Guaranteed delivery before Christmas
Satisfied or refunded until 15/01/2024*
REFERENCE : ZFEN0990702003
Diatonic Harmonica
Harmonica Blues Deville Fender 10 holes La
ARTICLE N° 46767
diatonic Fender

10 holes

The Tone

Model Blues Deville

Chrome metal finish

Exchangeable brass plate

Plastic Combs for brilliant and good corrosion resistance

Supplied in plastic carrying case

Cleaning Cloth provided

Reference: 099-0702-003
Fender Blues Deville Harmonicas are true professionals intruments by their longevity and traditional manufacturing. Black finish and gold are beautiful!
Harmonicas Blues Deville are diatonic harmonica 10 holes. They are available in the following shades: C (C), G (G), La (A), D (D), F (F), Mi (E) and B flat (Bb).
Delivered case and accompanied by their maintenance cloth, they will accompany you everywhere!
User's advice Diatonic Harmonica
Harmonica Blues Deville en La Fender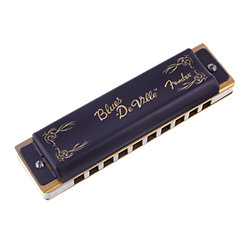 /5
1 User's advice
JEAN PHILIPPE V
06/10/2021
Magnifique
Fender - Harmonica Blues Deville en La
Fender - Harmonica Blues Deville en La
Guaranteed delivery before Christmas
Satisfied or refunded until 15/01/2024*
REFERENCE : ZFEN0990702003
Since 1946,
Fender
has been making instruments and amps that have changed the course of music history. The
Telecaster
,
Stratocaster
,
Precision Bass
and
Jazz Bass
are known around the world as the instruments that started the rock revolution, and they continue to be prized by
musicians
and
collectors
today.
Everyone from
beginners
and amateurs to the world's most
famous artists and performers
have used
Fender instruments
and
amps
, making the company not only a revered name in the music industry, but also a cultural icon.
SonoVente.com also offers
limited edition Fender
guitar models. Be sure to claim yours before it sells out.