Fender - Hot Rod Deluxe Harmonica en FA
Out of stock
Contact us for delivery times
Satisfied or refunded until 15/01/2024*
REFERENCE : ZFEN0990708005
Diatonic Harmonica
Diatonic Harmonica 10 holes in FA, chrome hoods, brass reeds Valves, Hot Rod Deluxe series, delivered in Fender case with its cleaning cloth.
ARTICLE N° 59740
Fender

diatonic harmonica

Deluxe Hot Rod series Tone: FA (F)

Chromed and Engraved Caps

ABS Plastic Comb

Brass Reeds

Valved Reeds Valves 1 to 6

Valved Aspirated Reeds holes 7 to 10

Carrying case and polishing cloth included

Available in La, Bb, Do, D, Mi, Fa and Sol

Reference: 099-0708-005
User's advice Diatonic Harmonica
Hot Rod Deluxe Harmonica en FA Fender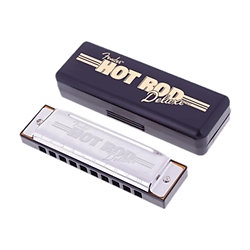 /5
2 User's advice
Haven't had the chance to use the harmonica yet, but happy with the price and to have a harmonica in a new key.
Fender - Hot Rod Deluxe Harmonica en FA
Fender - Hot Rod Deluxe Harmonica en FA
Out of stock
Contact us for delivery times
Satisfied or refunded until 15/01/2024*
REFERENCE : ZFEN0990708005
Since 1946,
Fender
has been making instruments and amps that have changed the course of music history. The
Telecaster
,
Stratocaster
,
Precision Bass
and
Jazz Bass
are known around the world as the instruments that started the rock revolution, and they continue to be prized by
musicians
and
collectors
today.
Everyone from
beginners
and amateurs to the world's most
famous artists and performers
have used
Fender instruments
and
amps
, making the company not only a revered name in the music industry, but also a cultural icon.
SonoVente.com also offers
limited edition Fender
guitar models. Be sure to claim yours before it sells out.