Reloop - RHP 6 Green
DJ Headphones
with eco participation: 0,10 €
Added to the catalog on
20/07/2016
Helmet Street or multimedia DJ use, RHP 6 Green Reloop developed in Germany according to specific criteria and qualities!
Ultra compact, lightweight while offering powerful sound, deep bass, attenuated mids and clear highs.

Excellent and serious manufacturing

Rotary and retractable for easy transport

Elegant polished rubber finish

elastic headband nylon material AC-absorbent

music sharing function through a connection to graft another helmet

hyper Cable with resistant protective textile sheath

Gold plated connection included 3.5mm

low weight

audio one side cable

Microphone compatible with all types of PDAs such as iPhone, hTC, Blackberry having a output 3.5mm (protocol 2-way communication)

All connection part is plated Or, incl. 3.5mm

Range frequency: 10 Hz - 20 kHz

Max Input Power: 100 mW

Impédance: 32 ohms ± 15% (@ 1kHz, 1mW)

Membrane: 38 mm

acoustic Pressure: 95 dB

level output: 1 mW

Connexion: 3.5mm gold plated

Weight: 123 g

Part microphone:

Directivité: Omni-directional

Range frequency: 50 hz - 16 kHz

Impédance 8.2 ohms

Sensitivity: - 62 dB ± 3 dB (@ 1 khz)

s / n ratio: 58 dB
The aesthetics brought to this range allows it to distinguish between what already exists on the market for headphones.
With outstanding acoustic characteristics, to match its looks, design RHP-6 has also benefited of attention and seriousness for maximum durability. RHP-6 will be your faithful companion: by train, by plane, at the gym or on the way to your next concert. finally RHP-6 is impressive thanks to its comfort hyper headsets designed for listening and unlimited fun. The acoustic chic belongs to him!
Application
DJ headset, Smartphone headset, Gaming headset
User's advice DJ Headphones
RHP 6 Green Reloop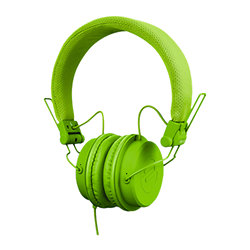 /5
1 User's advice
Reloop - RHP 6 Green
Reloop - RHP 6 Green
with eco participation: 0,10 €
Added to the catalog on
20/07/2016