Showtec - Demi boule à facettes 50 cm
Mirror Ball
Added to the catalog on
21/05/2013
50 cm faceted half-ball with motor, to fix on the wall or the ceiling, the classic and timeless effect of the seventies!
50 cm half faceted ball

wall or ceiling mounted

with motor
All Showtec mirror balls have a stabile plastic heart and real glass facets. All balls facet of more than 30 cm are equipped with a safety pin.

Warning :
You must comply with BGV-C1 Directive and ensure that the engine is always secure with a second fixation. Before the first start, your system should be checked by a qualified technician.
Showtec is a Dutch original brand of professional equipment for the show. Showtec has everything you need to create professional light shows for clubs, Nightclubs, Stages and fixed installations. Showtec has a wide range of lighting products and all their accessories to make your wildest dreams!
User's advice Mirror Ball
Demi boule à facettes 50 cm Showtec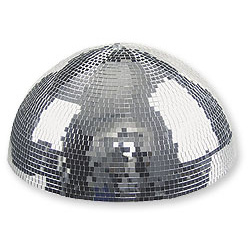 /5
1 User's advice
A manipuler avec précaution, surtout en Disco mobile.
Showtec - Demi boule à facettes 50 cm
Showtec - Demi boule à facettes 50 cm
Added to the catalog on
21/05/2013