Satisfied or refunded until 15/01/2024*
Usually shipped within 3 days
+infos
Accessories and Micro Stands
Universal Reducer 5/8 "(int): 3/8" (ext) for mic
ARTICLE N° 35564
Universal Reducer 5/8 "(int): 3/8" (ext) Microphone Stand

Set of 5 pieces

Meet the ROHS standard
User's advice Accessories and Micro Stands
MA 5H REDUCTEUR Stagg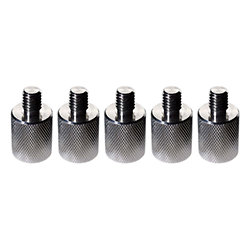 /5
3 User's advice
Repartition des notes
Cliquer pour filtrer
Semble très solide. Je verrais à l'utilisation ultérieurement.
Non adapté, mais bonne description. Servira sûrement un jour.
Stagg - MA 5H REDUCTEUR
Stagg - MA 5H REDUCTEUR
Satisfied or refunded until 15/01/2024*
Usually shipped within 3 days
+infos
From drums, cymbals, percussion instruments, stands, speakers, electric guitars and more, Stagg offers a wide variety of musical instruments and accessories. Since 1995, Stagg has been committed to helping people from all walks of life realize their full musical potential through its comprehensive line of instruments and accessories.