Stagg - PB39 WHP VBK
Full Bench
Usually shipped within 3 days
+infos
Added to the catalog on
25/08/2014
Piano bench with black velvet pad with adjustable height 49-59 cm, glossy white finish.
STAGG PB39 WHP VBK

Piano bench with black velvet pad

Adjustable height: 49-59 cm

Dimensions seat: 55 x 32 cm

Weight: 6.5 kg

Finish: bright white
Stagg is always first to leave the niche for high quality accessories at really amazing prices, proof is still with that piano bench, the cheapest market with equal opportunities and compatibilities!
Established in 1995, Stagg is a brand dedicated to musical instruments and high quality accessories for musicians from all backgrounds, always the most attractive prices.
All their instruments, those brass to those of wood, guitars or basses, drums and cymbals via piano benches are handmade, design is made by specialists at the parent company in Belgium.
User's advice Full Bench
PB39 WHP VBK Stagg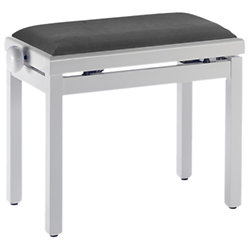 /5
1 User's advice
Stagg - PB39 WHP VBK
Stagg - PB39 WHP VBK
Usually shipped within 3 days
+infos
Added to the catalog on
25/08/2014
From drums, cymbals, percussion instruments, stands, speakers, electric guitars and more, Stagg offers a wide variety of musical instruments and accessories. Since 1995, Stagg has been committed to helping people from all walks of life realize their full musical potential through its comprehensive line of instruments and accessories.