American DJ - F4 PAR BAG
Lighting Accessories
Usually shipped within 4 days
+infos
Added to the catalog on
12/01/2017
Transport bag for 4 flat LEDs of the SLIMPAR type. Padded, it will easily transport and protect your by modern as well as wiring. Lighter and malleable than a flight case, it's the perfect accessory!
ADJ Flat Pak Bag 4

Transport bag for 4 by

LED Ideal for SLIMPAR

Pocket for

cables Removable and divisible

compartment Compartment size: 80 x 200 x 150 mm

padding Waterproof

Supplied without LED

Internal dimensions: 360 x 250 x 220 mm
User's advice Lighting Accessories
F4 PAR BAG American DJ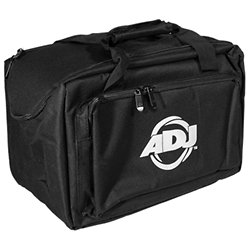 /5
1 User's advice
American DJ - F4 PAR BAG
American DJ - F4 PAR BAG
Usually shipped within 4 days
+infos
Added to the catalog on
12/01/2017
Since 1985, American DJ has continued to develop and improve its line of equipment for mobile entertainers, and its outstanding line of DJ gear is no exception. From gobo projectors to DJ stands, lighting effects to LED PARs to flight cases and more, you can be sure that ADJ has the tools you need to make your talent shine!