Arturia - Drumbrute Impact
with eco participation: 0,50 €
Satisfied or refunded until 15/01/2024*
Usually shipped within 48h
+infos
Drum Machine
The DrumBrute Impact is a drum machine with a strong personality, a source of pleasure and instant satisfaction with a powerful and unique sound. It incorporates amazing performance controls, full connectivity and analog sounds that will give your music a visceral and powerful energy. This is a more compact version, with 10 sleek sounds, distortion and a magic button: color. She is powerful, aggressive and will mark her time.
ARTICLE N° 62904
Arturia Drumbrute Impact

Analog drum machine

Features :

10 sleek and powerful analog sounds. Powerful and sleek drum sounds including a stunning kick, two snare drums that slap you, high Tom and low Tom, a strident cymbal, dazzling HH, a massive FM sound and a cowbell.

Powerful sequencer: 64 patterns with up to 64 steps each.

Polyrhythm: assign a pattern duration for each instrument.

Looper: for staggered or repetitive breaks.

Rollerball: Adds one roll per instrument,

Songs: chain up to 16 patterns, and record up to 16 titles.

Swing: Add groove to your rhythms individually by instrument or globally.

Random: Add unpredictable variations on your rhythms.

Output distortion: rich and specially designed to dirty the sound as you want and when you want it.

Synchronize with everything you have: DrumBrute Impact connects with virtually any existing music hardware or software: synthesizers, sequencers, expanders, old analog synthesizers or even a modular system. Of course, your computer will also work hand in hand.

3.5mm mini-jack headphone output

Metronome: the metronome withdraws from the Master output as soon as a headset is connected. So you can hear it without the public noticing.

Group outputs: 4 additional outputs separate Kick, Snares, HH or FM sound separately for precise mixing.

Color: Exclusive to the DrumBrute Impact: "Color" can be activated by instrument or step. "Color" adds saturation to the Kock, snap and crack to the snares, excites HH, toms and FM sound.

Software provided: Arturia MIDI Control Center.

Dimensions: 350 x 290 x 90 mm

Weight: 1,84 Kg
With an emphasis on "raw", DrumBrute Impact offers 10 high-energy, refined and powerful analog sounds. It uses "Color" sound effects to introduce unique effects per instrument for certain key variations. Boost the harmonic content, add distortion, snaps or crackles with a simple touch on the pads. Automatically create changes by creating "Color" sequences. If you want an even more advanced battery, use the distortion with a crunch optimized for the battery. Drumbrute Impact is a drum machine for musicians and producers who need raw power and impressive sound. The ideal complement to its older sister with a cleaner sound: the DrumBrute.
User's advice Drum Machine
Drumbrute Impact Arturia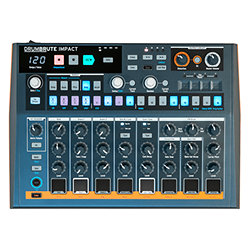 /5
4 User's advice
Repartition des notes
Cliquer pour filtrer
bonne boite à rythme avec des sons analogiques. Plus dédiée au live qu'au studio, c'est le seul bémol pour ma part car orienté studio.
Excellent produit de chez arturia très satisfait de leur matériel c est le 3 ieme produit que j achète.
très bonne BAR , rien a dire
Excellente boîte à rythme, fort caractère, simple d'usage
Arturia - Drumbrute Impact
Arturia - Drumbrute Impact
with eco participation: 0,50 €
Satisfied or refunded until 15/01/2024*
Usually shipped within 48h
+infos
Created in 1999, Arturia is a French brand specialized in the development of software, virtual instruments and electronic music instruments. Recent products include synthesizers that can substitute different modeled analog modules, such as a filter bank from one synth and an oscillator from another, to create new sounds, as well as drum machines that contain both models of old units and new hybrid systems. Their biggest successes are surely the Minimoog emulation, Jupiter 8V, CS-80, Prophet 5 but also their hybrid synths of the Analog Experience series. You like Funk, Disco, House music... the Arturia brand is made for you !