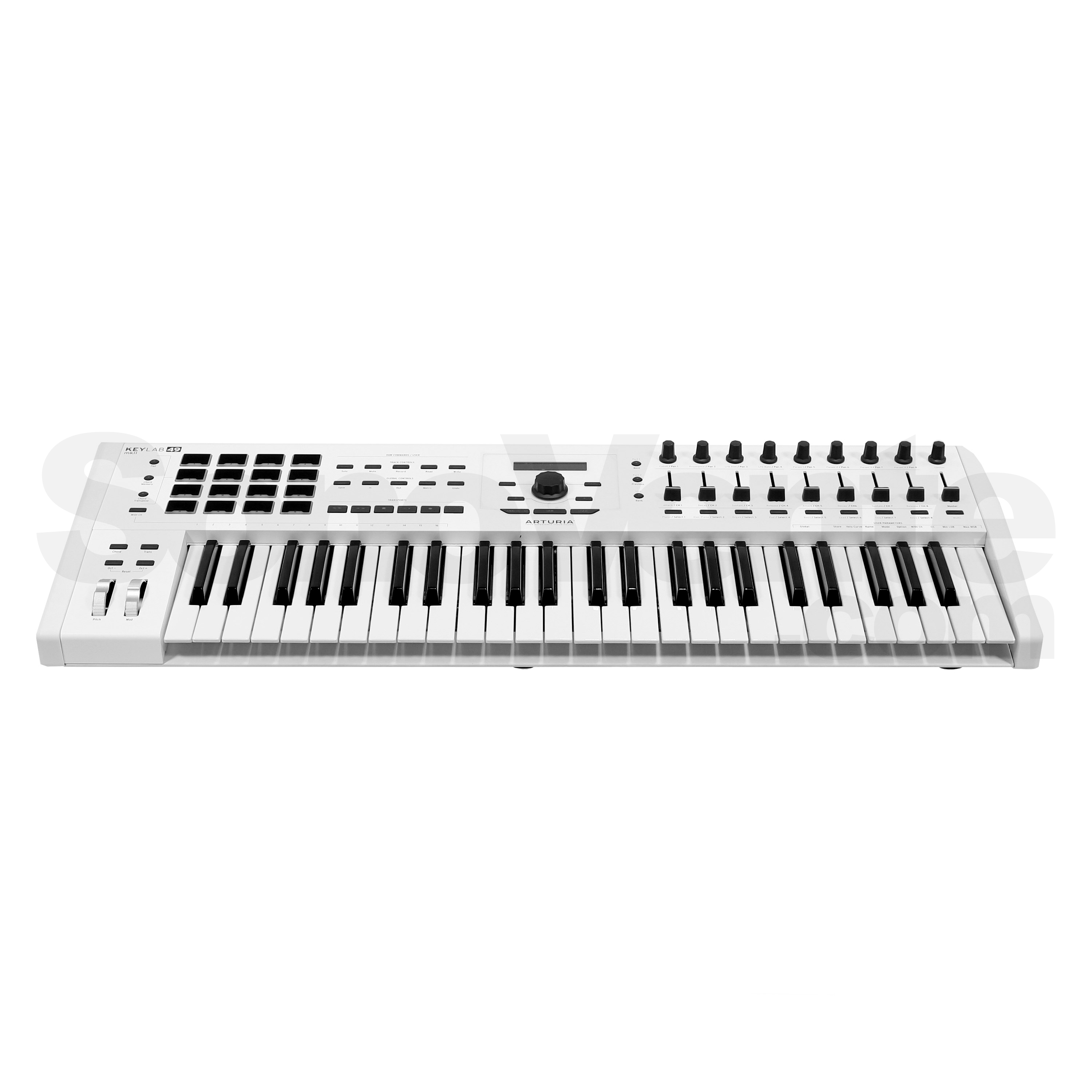 Arturia - KeyLab MkII 49 White
Master Keyboard
with eco participation: 0,10 €
Added to the catalog on
31/07/2018
Here is the culmination of a know-how: Arturia has, for the new Keylab MkII version, taken over the control functionalities of the first generation and the best of the KeyLab Essential, all enhanced with a plethora of new features to discover! To complete the package, it comes with Analog Lab 3, Piano V and Ableton Live Lite software. 49 semi-weighted keys version, white color.
Arturia KeyLab MkII 49 White

49-key keyboard with Aftertouch

16 dynamic RGB pads

9 assignable sliders

9 assignable potentiometers

LCD display

16 transport keys and DAW controls

4 CV outputs for analog and modular synthesizers

1 CV input for analog and modular synthesizers

5 pedal connectors

MIDI I/O

USB port

Aluminium frame and wooden sides

Comes with Analog Lab 3, Piano V and Ableton Live Lite software

Windows and MacOS X compatible

Dimensions: 793 x 297 x 53 mm

Weight: 6.3 kg

White colour
With an aluminium frame and the usual wooden sides, metal pitch bend and modulation wheels, 16 backlit multifunctional RGB pads with pressure and velocity sensitivity, three banks of 8 pots, faders and RGB buttons assignable in MIDI), a small 32-character LCD display as well as inputs for expression and sustain pedals and three inputs for auxiliary pedals.
In addition to the USB port and DIN MIDI input and output, Arturia has equipped its KeyLab mkII with one input and four CV outputs to integrate controllers into the modular world or connect them to your compatible synths.
The KeyLab mkII offers two customizable chord modes and three operation modes: DAW to control your STAN, with transport, track management and navigation controls; Analog Lab to easily access thousands of instrument sounds from Arturia's famous collection via automatic assignment of keyboard pots, faders and buttons, dedicated Category buttons and tag navigation with the jog wheel. Finally, a User mode allows you to customize all controls to send the MIDI CC messages you want to control the settings of your virtual instruments. You can save up to 10 configurations.
And to make your life even easier, Arturia provides ten magnetic covers and presets for the most popular STANs!
Power type
Via Bus USB, Power adapter (sold separately)
Control pedal input
Sustain, Expression, Footswitch
Housed in a metal frame bordered with wood, the new Keylab mkIIs are a real hit! Get closer and notice the quality of the finish in every detail: nothing has been left to chance. Whether it's long stroke cursors, encoders, RGB pads, tape recorder keys or keyboard quality, you'll enjoy playing as much as watching it!
In recent years, the main element of master keyboards has been somewhat neglected. The quality of the keys has dropped to the point of limiting the possibilities of expression that we are entitled to expect from a controller. That's why Arturia has completely redesigned its keyboard to offer a responsive touch, sensitive to velocity and aftertouch.
Never before has a master keyboard offered so many possible controls: the Keylab mkII offers both Midi plugs to connect your synthesizers, expanders and other digital effects, the essential USB/Midi plug to work with your software, but also 4 CV outputs that will allow you to connect and control old analog synthesizers and even modular systems!
To our great delight, Arturia's engineers are all musicians. And it shows! The Keylab mkII's user interface benefits both from the experience acquired with their previous controller ranges and from a long reflection by experienced instrumentalists. In the end, never before has a master keyboard been so quick to learn to use while offering so many possibilities.
The Keylab mkII is supplied with the software licenses: Analog Lab 3, Piano V (full version) and Ableton Live Lite. Using this master keyboard, you will be able to play with more than 6000 sounds from legendary synthesizers and also play with Arturia's modeled piano to record everything in the most famous DAW: Ableton Live Lite.
User's advice Master Keyboard
KeyLab MkII 49 White Arturia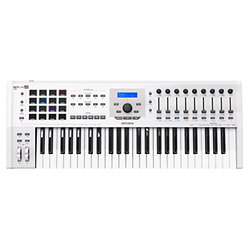 /5
1 User's advice
Excellent... je le découvre encore, mais c'est du sérieux. Coque en métal, toucher clavier excellent... Je vous en dirai plus dans X mois quand j'en aurai fait le tour :)
Arturia - KeyLab MkII 49 White
Arturia - KeyLab MkII 49 White
with eco participation: 0,10 €
Added to the catalog on
31/07/2018
Created in 1999, Arturia is a French brand specialized in the development of software, virtual instruments and electronic music instruments. Recent products include synthesizers that can substitute different modeled analog modules, such as a filter bank from one synth and an oscillator from another, to create new sounds, as well as drum machines that contain both models of old units and new hybrid systems. Their biggest successes are surely the Minimoog emulation, Jupiter 8V, CS-80, Prophet 5 but also their hybrid synths of the Analog Experience series. You like Funk, Disco, House music... the Arturia brand is made for you !