ASD - 57EL90 / Elingue de sécurité
Safetys
Added to the catalog on
17/01/2011
Safety rope

Length 600mm

Breaking load 250 kg Maxi

French Manufacture

Approved Socotec
For information on specifications and a complete structure:
structure@sonovente.com

Since 1 September 2005 Martin Professional France distributes all product lines "lifting feet and metal structure" of ASD company, which will mainly focus on manufacturing as well as research and product development.
catalog items A.S.D. are subject to rigorous calculation notes and comply with applicable European directives.
The products concerned by these Directives are certified by official control bodies (APAVE, SOCOTEC, ...).
User's advice Safetys
57EL90 / Elingue de sécurité ASD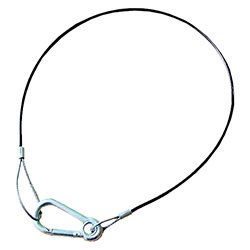 /5
56 User's advice
Repartition des notes
Cliquer pour filtrer
RAS - Bon rapport prix / prestation.
Parfait, seul petit bémol.. quelques endroits sont assez tranchants
ASD - 57EL90 / Elingue de sécurité
ASD - 57EL90 / Elingue de sécurité
Added to the catalog on
17/01/2011