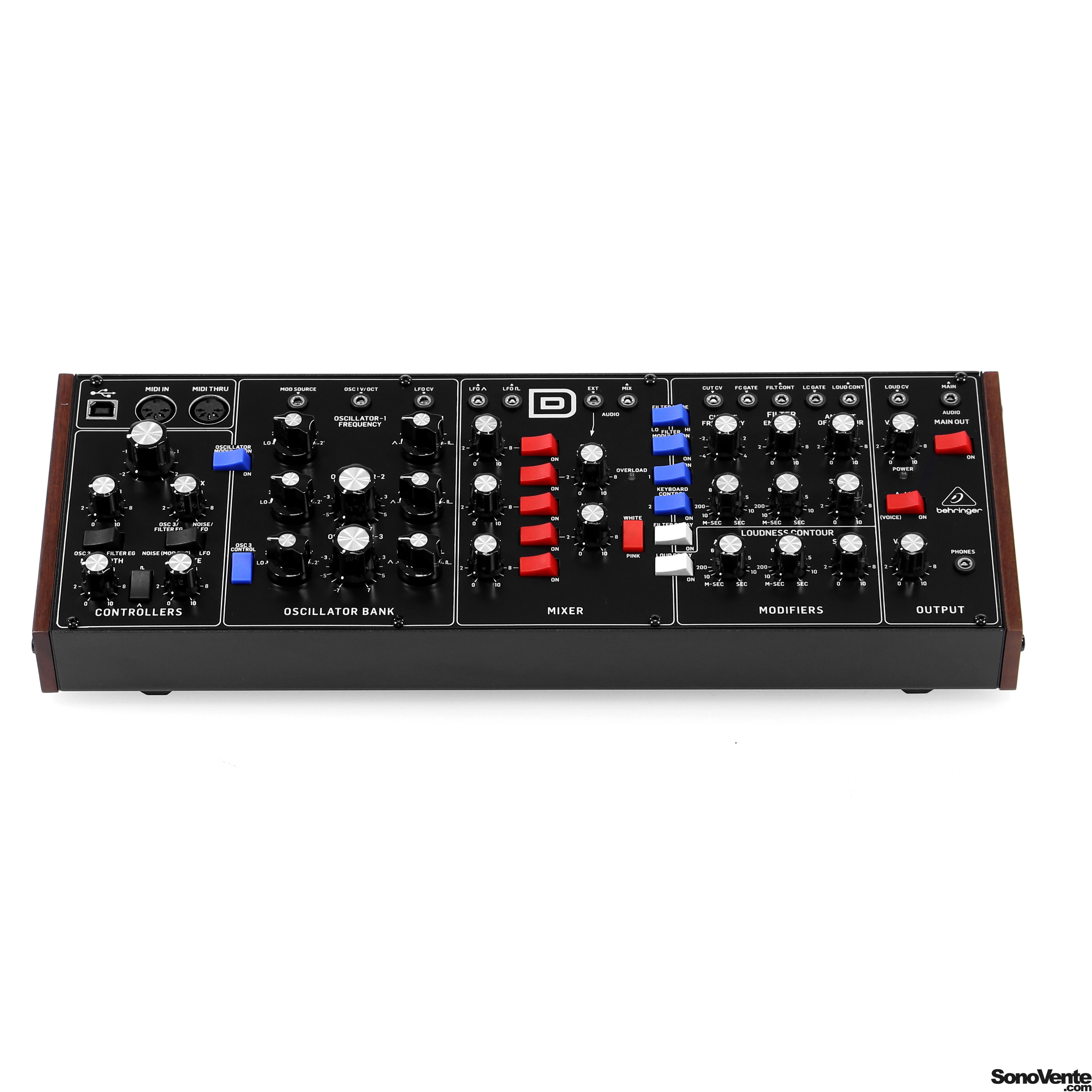 Satisfied or refunded until 15/01/2024*
Expander / Sound Module
The Model D is a rack-mount analog synthesizer with the authentic D Type circuit. The triple design VCO allows a very rich music creation! The model D is a synthesizer in eurorack format.
ARTICLE N° 60415
Behringer

rackmount analog synthesizer Model D

Authentic reproduction of the original "D Type" circuit with

paired transistors and JFETs High precision 0.1% thin film resistors and

polyphenylene sulfide capacitors Pure Analog Signal Path Based on Genuine VCO, VCF and VCA Designs

5 Variable Oscillator Shapes with Variable Pulse Widths for Ultimate Sounds

Classic 24 dB Step Filter with Resonance for Legendary Sound Performance

Switchable lowpass / switchable filter mode for enhanced sound creation

Square wave and triangle LFO

16-channel Poly Chain mode allows multiple synthesizers to be combined for up to 16 voices polyphony

Semi design -module does not require any patch for immediate performance

Overdrive circuit

The generator noise greatly expands

waveform generation The main module can be transferred into a standard Eurorack

box 48 controls give you direct and real-time access to all important parameters

External audio input for processing external sound sources

Low and high level outputs

Full MIDI implementation with MIDI channel and voice priority selection

Designed in England
User's advice Expander / Sound Module
Model D Behringer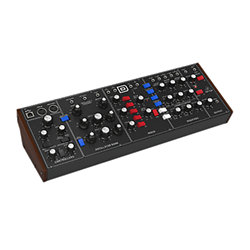 /5
5 User's advice
Repartition des notes
Cliquer pour filtrer
Produit conforme aux avis consultés par ailleurs. Achat recommandable.
3 oscillos, du bon gros son ! intuitif, facile d'accès, une belle palette sonore, le Model D est finalement très complémentaire au Neutron - également une belle réussite - donc Merci Behringer
Très beau Son bien Gras.
Multiples sonorités.
Boutons costauds.
Installe facile dans Cubase et en Stand alone.
excellent rapport qualité / prix
Behringer - Model D
Behringer - Model D
Satisfied or refunded until 15/01/2024*
The very famous BEHRINGER brand needs no introduction! The DJX 750 and the new DJX 900, the new NOX mixing desks and the DDM 4000, passive and active loudspeakers from the B series, EP, EPQ and EPX amplifiers, the very competitive XENYX mixers by Behringer, TRUTH studio monitors series, EPA portable PA… Quality at an unbeatable price!