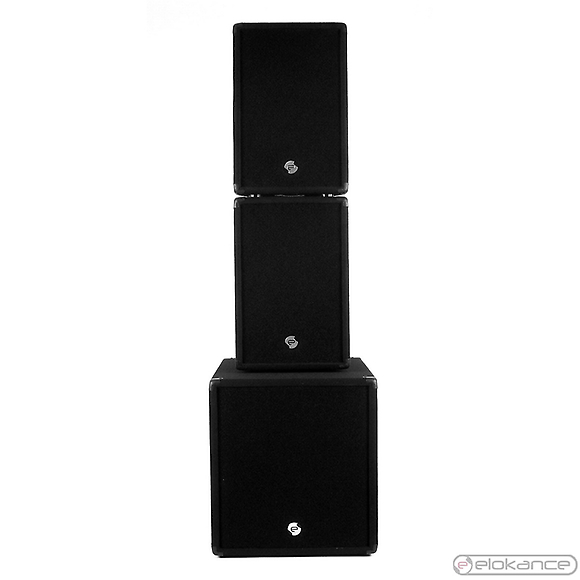 Elokance - ELO 800C
Active PA Set
with eco participation: 3,04 €
Added to the catalog on
09/12/2013
Amplified PA system 3 ways 800W RMS Elokance Elo 800C, composed of 2 Elo 10C and 1 ELO SUB15AC. Delivered with 2 loudspeakers stands and 2 Speakon cables of 5m ELO SPEAKON : Elokance, THE reference for DJs. Carpeted finish.
ELOKANCE ELO 800C

High end Triphonic package consists of 2 ELO 10C and 1 ELO SUB15AC

Total power of 800W RMS

Carpeted finish

Technical features

Elokance ELO 10C

Elo range

Passive loudspeaker

10" speaker driver (25cm)

1 inch coil compression tweeter (25mm)

Power : 200W RMS / 400W Peak at 8 Ohms

Bandwidth @-10dB : 65Hz-19Khz

SPL Max : 127 dB

Sensitivity (1W/1m) : 97 dB

Cutoff frequency of the filter : 2.5 Khz

Input connectors: 1 x Speakon

Speaker stand flange: 35mm

2 Carrying handles

Carpeted finish

Dimensions of one speaker: 320 x 280 x 485 mm

Weight of one speaker: 12 kg

Elokance ELO SUB15AC

Elo range

Active subwoofer (amplified)

"D-class" amplification

1 speaker driver of 15" (38cm)

Power : 500W RMS

Amplifier 2 x 150W RMS for satellites outputs

Bandwidth @-10dB : 35Hz-20Khz

Limiter and protections against short-circuit or overheating.

XLR/Jack 6.35mm Inputs

Speakon Outputs, with curve switch depending on the satellites you are using

Separate level controls for Right/Left/Sub.

Ground/Lift selector

Mono/Stereo selector to use 2 satellites outputs on one channel.

Curve selector 0/180° for the subwoofer

Speaker stand flange of 35mm

2 carrying handles on the sides

Carpeted finish

Dimensions of the subwoofer: 450 x 580 x 486 mm

Weight of the subwoofer: 38 kg

Delivered with 2 loudspeaker stands and 2 Speakon cables Elokance of 5m ELO SPEAKON

With a very good sound quality, the Elo series is also very convenient because of its evolving capacities: you can add almost as many satellites or subwoofers as you want!

Carpeted finish
With great reliability and quality sound, the new Elo range of Elokance features the latest technological innovations.
Versatile and scalable, the range is composed of active subwoofers and passive satellites offering a wide range of possibilities for adapting the power to your needs while maintaining a homogeneous system and excellent sound quality.
With excellent workmanship and ultra-resistant paint, the Elokance Elo are also equipped with high end speaker driver. Thanks to that, the Elo systems are renowned for their reliability and resistance.
Used both indoors and outdoors, the Elokance Elo will quickly become the speaker series that will suit you to insure your benefits many years.
Application
Ambiance, Sound reinforcement, DJ Mobile, front speaker
Can be used on stand
Ø 35mm (1 3/8"), Ø 35mm (1 3/8")
Effects
Audio signal processed by DSP
Connectors
XLR female 3 pins, Jack female Mono
User's advice Active PA Set
ELO 800C Elokance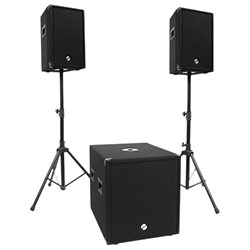 /5
69 User's advice
Repartition des notes
Cliquer pour filtrer
Merci pour votre professionnalisme et votre disponibilité pour vos conseils. Merci pour le traitement et l'envoie rapide des commande
Il s'agit de mon 2e ensemble de cette marque dont je suis très satisfait. Je voulais juste un 2e caisson mais là finition moquette elo sub 15Ac n'existe pas en vente seul. Je voulais mettre un caisson de chaque côté avec barre de couplage et satellite dessus (idem config elo1300) très efficace et répond entièrement à mes Besoins
Super produit très bonne qualité
Je recommande ELO 800 C très bon son moi j'en ai 2 et j'en suis très comptant
Elokance - ELO 800C
Elokance - ELO 800C
with eco participation: 3,04 €
Added to the catalog on
09/12/2013
With more than 10 000 systems per year, Elokance is now the most sold brand in France! DJ oriented 3 ways systems, high end active loudspeaker with integrated DSP or full concept for nightclubs, Elokance answers all the needs of the most demanding clients. Price, Sound, Quality… Elokance is the "Sound Evolution!"