Korg - Volca Kick
Drum Machine
with eco participation: 0,50 €
Added to the catalog on
21/09/2016
Box analog kick rhythms which delivers powerful bass drum sounds loaded bass. With an analog circuit based on the powerful sound of the original MS-20 filter, with a 16 step sequencer, the FX Touch functionality, a built-in speaker ... with its compact size, power battery and built-in speaker makes it easy to transport the kick volca everywhere and use it at any time! You can also connect to other volcas, Minilogue, electribe or SQ-1 and try a session with a synchronized sequencer. MIDI IN allows you to use the kick volca as a sound module for DAW or MIDI controller.
KORG volca kick

Box analog

rhythms Keyboard: multitouch / Keys stepper

maximum polyphony: 1 voice

Structure: VCF (MS-20 Rev1 with resonance type), Generator Pulse, Via, Drive analog, analog tone.

MS-20 Resonator: Picth / Octave, Bend, duration

Pulse: color, level

Amp: attack, decay

Tone: low pass filter, 12dB / oct

Sequencer: number of units: 1 number of steps: 16, number of recordable patterns: 16 (each with its own program of his)

Controls: pattern chain, motion sequence, Touch FX Active step, Accent (on / Off, depth), slide, Bend Reverse , Roll (1/4, 1/2, 1/1, 4/3, 2/1, 3/1), octave (October 1 Up, Up 2 October), sustain, Swing

Connections: Audio outputs: headphones (stereo mini jack) Sync: sync input (mini-jack mono), sync output ((mini-jack mono), MIDI: input

Power: 6 AA alkaline or six hybrids nickel metal or optional AC adapter batteries (DC 9V), yield: approximately 10 hours with alkaline

. Dimensions: 193 x 115 x 46 mm

Weight: 377 grams
The kick volca is an analog drum machine dedicated to kick, made for sound design. With an analog circuit based on the powerful sound of the original MS-20 filter, it allows you to create a wide range of sounds kick - only possible with analog circuitry - from powerful kicks bass drums to bass kicks slammin.
The 16 step sequencer, distinctive family volca, now has a new Touch FX feature that lets you control an effect instantly, giving you even more opportunities for live. Discover the amazing power of an analog kick that can not be obtained from a plug-in or a sample.
Power type
Battery, Power adapter (sold separately)
User's advice Drum Machine
Volca Kick Korg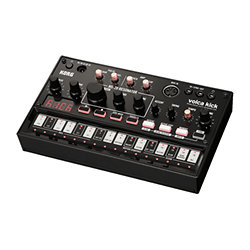 /5
4 User's advice
Repartition des notes
Cliquer pour filtrer
Cet appareil correspond tout-à-fait à mes attentes.
tres bon produit pratique a emporter
Cadeau pour ma fille qui m'a indiqué le site où commander. Elle avait bien selectionné ce produit et est très satisfaite de son cadeau!
Korg - Volca Kick
Korg - Volca Kick
with eco participation: 0,50 €
Added to the catalog on
21/09/2016
Founded in the early 1960s by Tsutomu Katoh and Tadashi Osanai, Korg is a brand with a
strong spirit of innovation
, combined with a
high level of quality
. Over the years, Korg has continued to expand its business, and today offers an incredible assortment of products for
musicians
of all backgrounds, and
DJs
with their
mixers
,
samplers
and
grooveboxes
.
Today, Korg's most popular instruments include the Minilogue XD, Wavestate and Opsix, its B2, PA700 and SV-2
keyboards
as well as the entire series of
Volca modules
.