M AUDIO - BX5 D3 (La Pièce)
Studio Monitors
with eco participation: 2 €
Added to the catalog on
20/06/2017
Manual frequency correction
Connectors
XLR female 3 pins, Jack female Stéréo
User's advice Studio Monitors
BX5 D3 (La Pièce) M AUDIO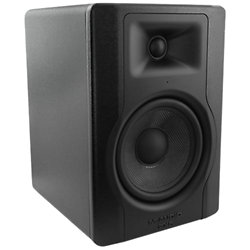 /5
9 User's advice
Repartition des notes
Cliquer pour filtrer
Super rapport qualité prix !

Bonne enceinte pour du monitoring, bibliothèque et pour de la simple écoute, sont assez propre globalement. J'ai remarquer que celle-ci était assez chaude a l'arrière après 2h d'utilisation, A voir si dans le temps l'amplification tiens bien.
Très bonne qualité du son si on l'utilise via un paramétrique de console (utilisation standard), le diviseur de puissance est bien étalonné et efficace (le son reste très bien détouré même à -4db)
Rapport qualité prix imbattable. Et très belles en plus
M AUDIO - BX5 D3 (La Pièce)
M AUDIO - BX5 D3 (La Pièce)
with eco participation: 2 €
Added to the catalog on
20/06/2017
Founded in 1980 in the U.S., the company known then as Midiman, and now as M-Audio, has become a leading manufacturer of controllers, master keyboards and audio interfaces, right down to monitor speakers. Acquired in 2012 by InMusic, the company that also owns Numark, Alesis and Akai Professional, among others, M-Audio continues to develop new products aimed at providing musicians with powerful, yet affordable tools. The company's superb STUDIOPHILE BX monitor speakers, KEYSTATION, OXYGEN, OXYGEN PRO and HAMMER MIDI keyboards, as well as M-TRACK and AIR sound cards, are just a few of the new products M-Audio has developed.