Reloop - Mixtour
USB DJ Controller
with eco participation: 0,50 €
Usually shipped within 48h
+infos
Added to the catalog on
02/02/2016
Reloop Mixtour and offers an ideal solution for iOS, Android, Mac or PC to mixing live with Spotify by Djay 2 or via Traktor, Virtual DJ (not supplied).
DJ Controller with 4 channel USB audio interface integrated

Supports iOS, Android, Mac and PC

Optimized for iOS and Android and djay Pro on Mac with access to Spotifiy

trigger section with backlit pads by color codes for the transport and the cue by deck

filters highpass and lowpass bipolar

2 modes effects to control the effects and filters simultaneously

PRO faders 45 mm

Equalizer three bands and gain by

channel Data and buttons for navigation and loading of pieces

8 points hot cue on 2 decks with edit controls (configuration, access and delete)

controls Play, Cue, Loop Sync and Auto

Fader-Start

Tab Controls, Tail and Back

Cue function controls with pre-visualization, volume and mix

LED indicator for the master and PFL

Shift function for d es Additional controls

Publishing on

grid Search mode in pieces

Headphone jack 3.5 mm

Master output RCA

USB

Power supply to charge iOS devices with dedicated connection

Connectors lightning only (providing adapter if necessary)

security port Kensington

Base to install the Mixtour on a turntable

Dimensions: 129 x 310 x 26 mm

Weight: 809 g
Reloop MIXTOUR is a MIDI controller for computers, tablets and also smartphones. It is compatible with applications djay 2 djay & PRO but is also used on Traktor or Virtual DJ, with the help of mappings that can be found on the website of Reloop.
Compatibility
Apple iOS, Android, Windows, MacOS
User's advice USB DJ Controller
Mixtour Reloop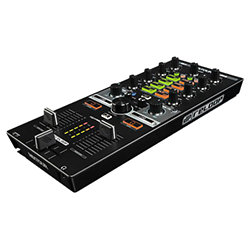 /5
2 User's advice
JEAN-SEBASTIEN H
09/02/2018
C'est exactement le produit que j'attendais.
Superbe matos.
Seul (gros) bémol: le cable entre iPad pro et la table est vraiment trop court.

Reloop - Mixtour
Reloop - Mixtour
with eco participation: 0,50 €
Usually shipped within 48h
+infos
Added to the catalog on
02/02/2016