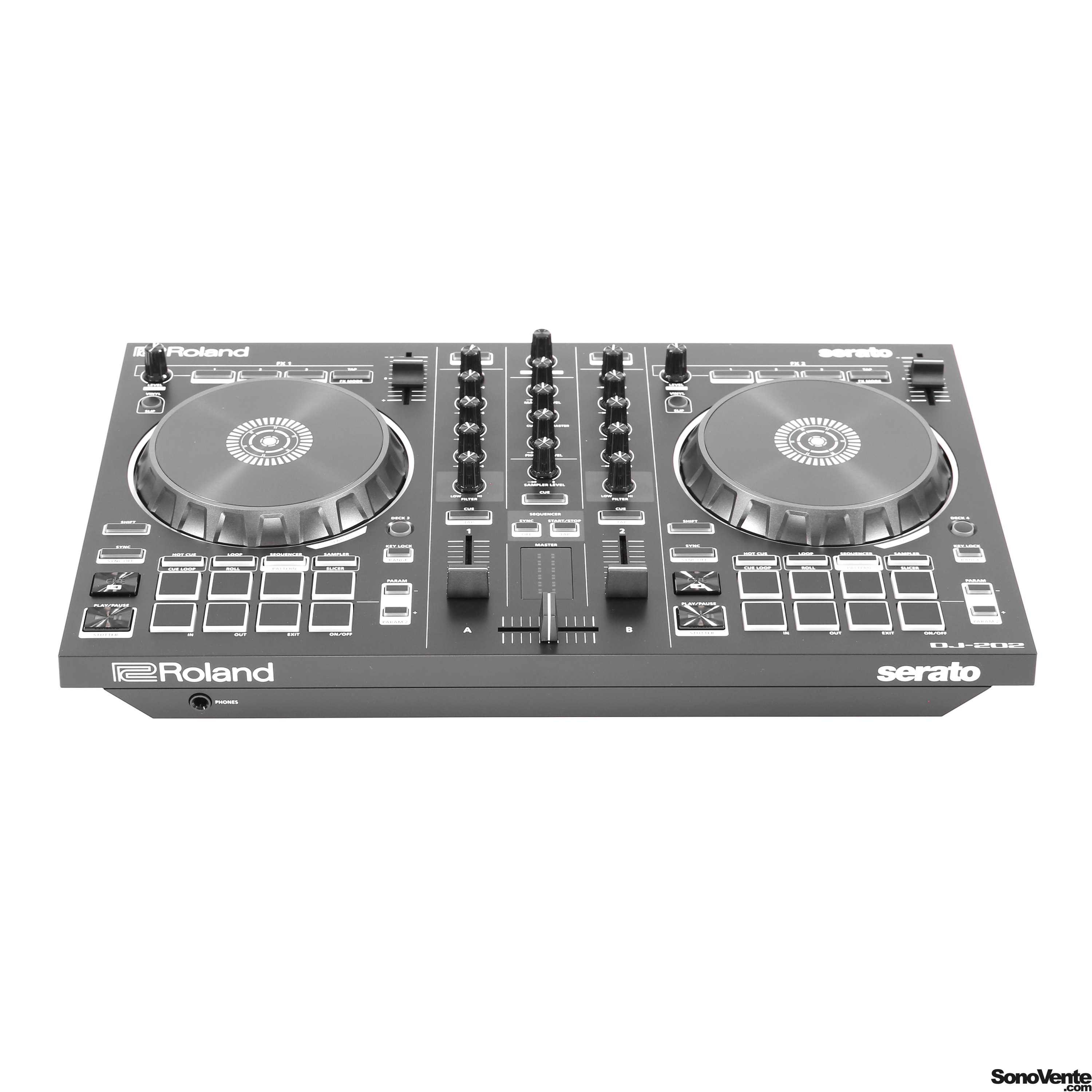 Roland - DJ-202
USB DJ Controller
with eco participation: 0,50 €
Usually shipped within 3 days
+infos
Added to the catalog on
17/08/2017
2-channel DJ controller and 4 decks for Serato, the swiss knife for nomadic DJs! The legacy of Roland drum machines in a DJ controller ... Mix and scratch, make voices more alive, the most successful controller at this price to remix, do the production, make the show! Intuitive, designed optimally for Serato DJ, based on the concept of its big brothers, the DJ-808 and DJ-505, the DJ-202 is just a bite of its direct competitors.
Roland DJ-202

2-channel and 4-decks DJ controller for Serato

Large zero-latency jogs to scratch like a pro

Drum kits from TR-808, TR-909, TR- 606 * and TR-707 * from Roland. Analog Circuit Behavior (ACB) technology ensures legendary character and "grain".

8 sounds per kit TR: bass drum, snare drum, open and closed hi-hat, tom, rim, clap and ride

Internal sequencer for the control of the Serato DJ intro sampler

Separate volume control for the

sampler 8 dedicated pads with Hot Cue, Loop, Sequencer and Sampler modes for software control Serato DJ Intro and Serato DJ

MIDI output for synchronizing external devices with Serato DJ intro

Mic input with gate, pass filter and

echo and reverb effects 24-bit / 48kHz audio quality with high resolution D / A

converters Compact, rugged and lightweight design with handles for easy transport

Direct connection to loudspeakers or speakers the amplifier via stereo

RCA outputs Power via USB for more comfort

Supplied with Serato DJ Intro; evolution to Serato DJ possible

Use Serato DJ Intro to organize and create music libraries or integrate songs from iTunes: just drag a song on the deck, set and trigger cues, loop , to use samples and to use the effects

Dimensions: 478 x 297 x 62 mm

Weight: 2.1 kg

Link for the Mixpack, limited to the first 100 purchases! :

https://www.roland.com/en/mixpack/

Contents: a full SERATO DJ PRO license, a FREE live explanation session via Roland Cloud Academy, 20% off your first purchases on Beatport
User's advice USB DJ Controller
DJ-202 Roland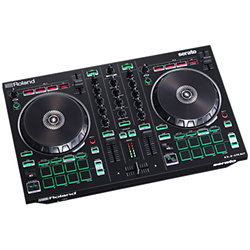 /5
8 User's advice
Repartition des notes
Cliquer pour filtrer
Ce produit est conforme à mes attentes mais le câble USB fourni avec me cause des grésillements quand je mix sur serato.
Super contrôleur rapport qualité prix très intéressant
Contrôleur USB génialissime.
Contrôleur très complet, reste plus qu'à le maîtriser car il offre beaucoup de possibilités! La notice n'est pas très étoffé, heureusement qu'il existe des tutos.
Très bonne impression pour ma première table de mixage DJ. La marque ROLAND m'inspire confiance et pour l'instant j'en suis très content. Les platines sont précises malgré leurs petits diamètres. Produit compact mais il y a tout ce qu'il faut pour débuter en Djing. Je recommande.
Roland - DJ-202
Roland - DJ-202
with eco participation: 0,50 €
Usually shipped within 3 days
+infos
Added to the catalog on
17/08/2017
For more than 40 years, Roland has been shaping the sound of modern music and setting standards in music technology. Advances in synthesizers, electronic drums, DJ and recording equipment and guitar products continue the brand's legacy. V-Drums (TD-1DMK, TD-17KV, TD-27KVX, and TD-07KX0K), VAD hybrid drums, digital accordions and instrument amps with Roland's famous CUBE. Look no further and take the best where it belongs!!!