Rode - NT-USB
USB Microphone
with eco participation: 0,10 €
Added to the catalog on
06/02/2015
Premium USB Microphone RODE NT USB, ideal for recording vocals and instruments and offers the sound quality we can expect from this famous brand microphones
USB Microphone

Type: large diaphragm condenser microphone

Compatible Mac & amp; amp; PC

Compatible with iPad or iPhone using a connection kit for optional camera

High quality sound

Frequency response: 20 Hz - 20 kHz

Dynamic Range: 96dB

SPL max. : 110 dB

Ideal for recording vocals and instruments

Also suitable for podcast projects

Connecting headphones with balance and volume settings

USB: input / stereo output

Powered by the USB port (DC 5V)

Plays the song of your DAW via the headphone output

Monitoring zero latency

Colour: black mat

Length: 184 mm

Weight: 520 gr

Supplied accessories

Table Tripod

Anti-pop filter

Pliers for micro / fixing ring

Cover

USB cable (6 m)
micro control is simple. On the side, there are two knobs and a headset connection. The lower button allows you to adjust the volume of the headset and using the top button, you can adjust the sound from your PC to the microphone. This allows you to hear your voice so no latency and accompany a song in your DAW.
Integrated AN / NA converter
Application
Home / HiFi / Rec, Speaking voice
User's advice USB Microphone
NT-USB Rode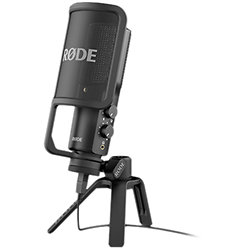 /5
7 User's advice
Repartition des notes
Cliquer pour filtrer
Très beau micro, la qualité du son est excellent. Il remplit parfaitement son rôle
Rode - NT-USB
Rode - NT-USB
with eco participation: 0,10 €
Added to the catalog on
06/02/2015
Rode has been a leader in audio equipment since 1967 and is respected by musicians and recording engineers around the world. From shotgun mics and lavalier mics to accessories such as boom stands and microphone stands, Rode has everything you need to capture an artist's talents on stage or in the studio. Best sellers include the NT1-A condenser mic, for podcasts the NT-USB mini and RodeCaster Pro. For those who want a dynamic microphone, choose the M1. There are also a number of mobile solutions for smartphones and DSLRs, always with professional quality.