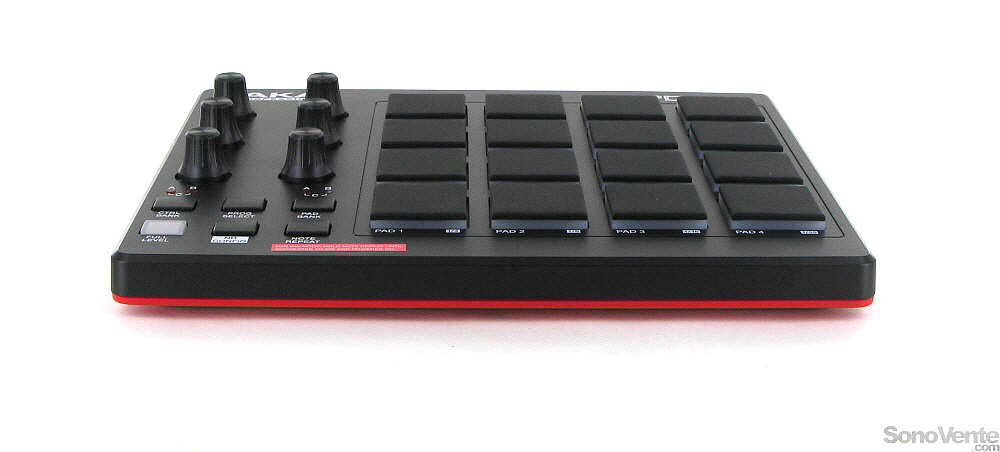 Akai - MPD218
DAW Controllers
with eco participation: 0,10 €
Added to the catalog on
21/07/2015
USB Controller / high performance MIDI equipped with new ultra-sensitive thick pads MPC type creating an incredible response to the interactions of the players, and a greatly expanded control all 6 potentiometers with 3 banks against only one on the previous MPD18 model .
AKAI MPD218

USB controller / high performance MIDI

16 thick pads, red backlit MPC kind of sensitive to velocity and aftertouch

48 assignable pads accessible via 3 banks

18 assignable knobs 360 accessible via 3 banks

Methods MPC Note Repeat and Full Level

Compatible iOS via the Camera Connection Kit (sold separately)

16 configurable presets

Comes with Ableton Live Lite software and a preset editor, sample banks Drums Big Bang, Big Bang Cinema Sonivox

USB powered, no AC adapter needed

Dimensions: 237 x 200 x 39 mm

Weight: 0.65 kg
MPD218 The controller is a USB / MIDI high performance, results of the last six years of user experience feedback. The new MPD218 embarks thick pads, ultra-sensitive type MPC creating an incredible response to the interactions of the players, and a greatly expanded set of control knobs 6 with 3 banks against only one on the previous model MPD18. In addition to providing for live performances or a complete studio controller ready for use, the MPD218 offers a perfect iOS compatibility (using the camera connection kit) and included a tempting offer of samples and software (Big Bang Big Bang Drums and Cinema Sonivox the music production software Ableton Live Lite and a preset editor).
Akai was founded in 1929 in Tokyo by Masukichi Saburo Akai and his son (who died in 1973). The first products were manufactured electric motors for turntable. Curiously at the onset of the first Hi-Fi products, Akai did not market to turntable. His specialty was essentially analog tape recorders in all forms of media available at that time (1/4 inch reel, 8-track cartridge, Philips cassette) that complemented amplifiers, analog radio receivers and loudspeakers. This is the most qu'insistante request of its two largest distributors and subsidiaries (the Dutch Fodor Akai and France) qu'Akai will decide to produce turntables from 1976. The brand also produced VCRs in 1969, that is to say long before the birth of VHS. They were models using coils 1/4 inch tape. Mainly laptops, VCRs these included a recording unit and a separate camera. There was also a VCR fixed coils 21 cm. The first were in black & amp; white color (SECAM) was commercialized in 1974. Subsequently Akai was a member of the group and abandoned the VHS VCR output 1/4. In 1982 the brand has diversified to musical creation where she was very present with very innovative products: first integrated recording studio recorder and mixing incorporated, first sampler in 1984, first amplifiers without feedback for the cons general public (1985), the first digital recorder hard drive to public in 1992.
User's advice DAW Controllers
MPD218 Akai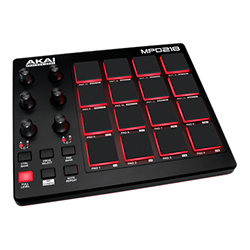 /5
10 User's advice
Repartition des notes
Cliquer pour filtrer
La taille des pads est plus confortable et la sensibilité meilleure que sur le mkIII, génial pour le fingerdrumming. Et livré avec Ableton Lite
Conforme à la réputation de la marque
sensibilité des pads variables suivant les pads et répétitions aléatoires sur certains pads. Pour le prix, ça fait le job...
Akai - MPD218
Akai - MPD218
with eco participation: 0,10 €
Added to the catalog on
21/07/2015
Having entered the music market in 1984, it didn't take long for Akai to become a leading brand in controllers, drum machines, MPCs, samplers and MIDI controllers. Whether it's standalone with the MPC One, Force or MPC Live 2, or plugged into your computer to take control of your software and virtual instruments with the MPK Mini, Akai Professional lets you make music wherever you want, in an intuitive and creative way. From the smallest portable controller to the largest studio-oriented pad system, Akai Professional has something for every MIDI controller need.