American DJ - Vizi HexWash7
Moving Heads Wash
with eco participation: 0,50 €
Usually shipped within 4 days
+infos
Added to the catalog on
08/02/2017
The Vizi Hex Wash7 is a moving head Professional Wash with 5 to 55 degrees variable zoom comprising 7 Hex-LEDs 6-en-1 + UV RGBWA 15W each. It includes 64 integrated color macros, movement Pan / Tilt high-speed, electronic dimming to 5 dimming curves and a reverse mode Pan / Tilt or contrasting movements when chaining multiple units.
Lyre high power servo motor zoom

Display 4 navigation buttons at the rear of the unit

64 integrated color Macros

Movement Pan / Tilt ultrafast

5 selectable dimming curves

Pan Control / Tilt 16bits

inversion mode pan / tilt movement for scontrastés when the units are chained

electronic strobe effect, pulsing effect, random strobe slow to fast

electronic Dimming 0 100%

Y tube suspension omage Quicklock included

Specifications:

7 LEDs HEX 6 en 1 + UV RGBWA 15W each of a life estimated at 50,000 hours

motor zoom 5 55 degrees

two operational modes:

program DMX DMX

3 modes Pan 630 degrees (or 540 °), tilt 270 degrees

standalone or master slave configuration

cooled v entilation

Power consumption: 137W

DMX in / outputs 3 and 5 pin to the back

Input / output Powercon rear

multi voltage power supply 100 240V 50 / 60Hz

Dimensions (LxWxH): 11.75 "x 8" x 15.75 "/ 300 x 200 x 400mm

Weight: 19 lbs / 8,5kg
The Vizi Hex Wash7 includes three DMX modes, input / output Powercon and DMX 3 and 5 pin .. The lyre is ideal for use on stage, in thétres, churches, clubs, concert halls or prductions of éveénments .
User's advice Moving Heads Wash
Vizi HexWash7 American DJ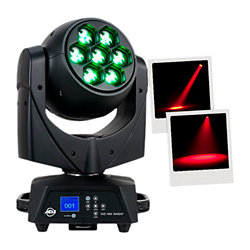 /5
1 User's advice
répond très bien aux commades
American DJ - Vizi HexWash7
American DJ - Vizi HexWash7
with eco participation: 0,50 €
Usually shipped within 4 days
+infos
Added to the catalog on
08/02/2017
Since 1985, American DJ has continued to develop and improve its line of equipment for mobile entertainers, and its outstanding line of DJ gear is no exception. From gobo projectors to DJ stands, lighting effects to LED PARs to flight cases and more, you can be sure that ADJ has the tools you need to make your talent shine!