American DJ - Stinger II
Led Lighting Effects
with eco participation: 0,50 €
Usually shipped within 4 days
+infos
Added to the catalog on
18/02/2016
Similar to the stinger, the stinger II ADJ is an effect 3-in-1. The difference are 8 3W UV LEDs in each circle which gives a new dimension to this great effect designed for DJs, small clubs and bars and bowling centers / recreation with its net beams filling an entire room.
Effects 3-in-1 powerful: Moonflower effect, strobe and laser. It includes 6 HEX-LEDs RGBWAP (red, green, blue, white, amber and purple) + 8 UV LEDs of 3W and 2 lasers (red and green)

Compatible CPU IR Wireless / Airstream (sold separately)

many of crisp, sharp colored beams traverse the dance floor

Engines microwave no 1.8 degrees produce rapid, fluid movements:

2 DMX modes: DMX channels 2 and 9

3 operation modes: music mode , master / slave mode DMX

integrated Programs spectacular in music mode and master / slave

mixing colors RGBWAP produced 15 different colors

chaining via input / output DMX and IEC

Display 4 navigation buttons the back of the unit

strobe effect and pulsation

DMX-512 protocol

electronic Dimming 0-100%

security eyelet on the back of the unit

power consumption: 70W max.

multi-voltage supply: 100-240V 50 / 60Hz

Sources LEDs: 6 Hex Leds RGBWAP 5W + 8 LED UV Laser + 3W red and green

Dimensions (LxWxH): 304 x 230.5 x 313mm

Weight: 5kg
UV LEDs in combination with the Hex-LEDs RGBWAP and green and red lasers style "Galaxian" offer lots of lighting possibilities. The unit includes 15 color programs, step-by-step engine fluids and LCD display 4 navigation buttons.
User's advice Led Lighting Effects
Stinger II American DJ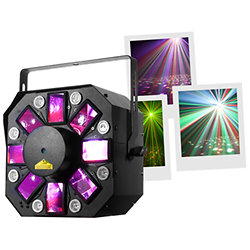 /5
5 User's advice
Repartition des notes
Cliquer pour filtrer
Qualité ok. Fonctions ok.
Super content et les enfants sont ravis !!! Avec les lasers, la strobo, UV et les programmes, les effets sont vraiment bluffant !! j'ai commandé la télécommande pour un usage plus pratique. Je recommande !!!
Ce produit procure une très bonne animation lumineuse. Le mariage laser et jeux de lumières est réussi. Avec la télécommande c'est encore mieux.
Bon rapport qualité prix et polyvalent par son laser + effets lumières
Bon produit pas assez de recul pour le long terme...
American DJ - Stinger II
American DJ - Stinger II
with eco participation: 0,50 €
Usually shipped within 4 days
+infos
Added to the catalog on
18/02/2016
Since 1985, American DJ has continued to develop and improve its line of equipment for mobile entertainers, and its outstanding line of DJ gear is no exception. From gobo projectors to DJ stands, lighting effects to LED PARs to flight cases and more, you can be sure that ADJ has the tools you need to make your talent shine!