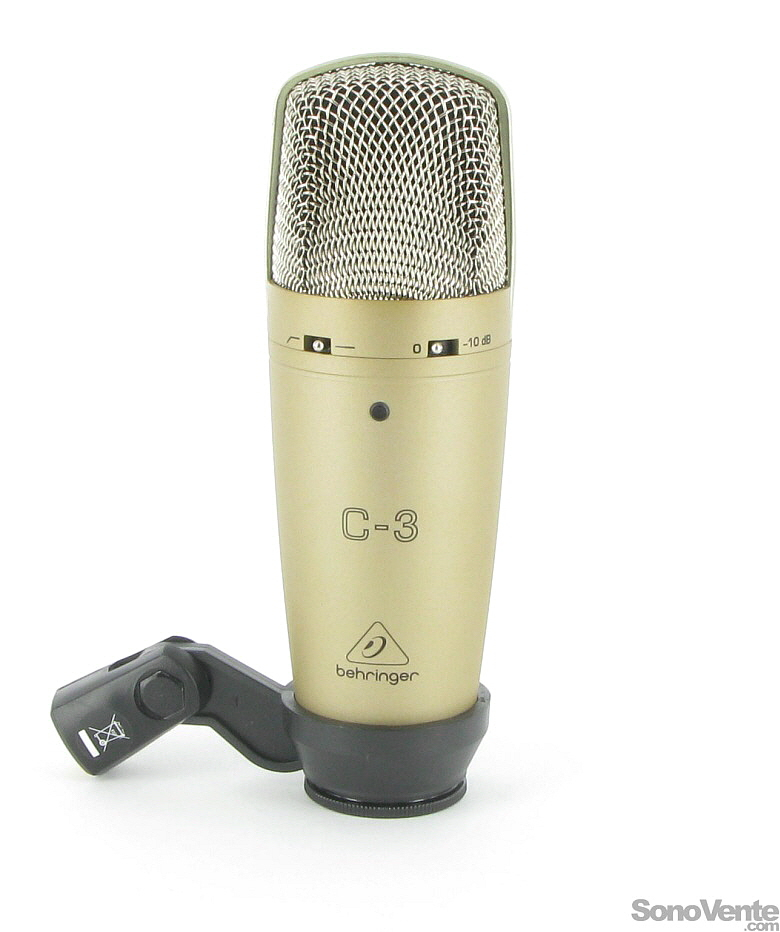 Behringer - C3
Static Microphone
with eco participation: 0,50 €
Added to the catalog on
29/10/2013
Professional Condenser microphone and double diaphragm BEHRINGER C-3
BEHRINGER C-3

Micro professional condenser and double diaphragm for studio and stage

Ideal as main and support microphone for studio applications and stage

Cardioid, omnidirectional or eight selectable

Pressure gradient with anti-shock capsule double diaphragm

Ideal for acoustic instruments, including pianos, as overhead, etc.

Exceptionally linear frequency response and extreme sound resolution

Input circuit transformerless FET ultra low noise eliminating low-frequency distortion

LED presence of phantom power

Ultra rugged construction with metal die-cast body

Output XLR gold-plated for perfect signal transmission

Suspension and carrying case included

High quality components and exceptionally rugged construction ensure long life

Conceived and designed by BEHRINGER Germany
Derived C1 microphone, he uses the qualities and characteristics
Technical except his double diaphragm structure and sensitivity
-40dBV, Its P.MAX of 142dB and B.P of 40-18kHz.
Comes in a case with media.
Diameter: 54mm Length: 180mm
Weight: 450g
Application
Piano, Drum / Percussions, Singing
Directivity
Cardioid, Omnidirectional, Bidirectional (Figure-8)
BEHRINGER presents the professional condenser microphone C-3

The C-3, our last condenser mic and double diaphragm, is ideal for the most demanding studio work and professional live applications.

The C-3 offers three selectable polar patterns (omni, cardioid and bidirectional) that give it the versatility to votes taken and professional acoustic instrument. It has a pressure gradient transducer with shock-diaphragm capsule guaranteeing double extremely high sound resolution and an ultra-linear frequency response rivaling those of much more expensive microphones. The C-3 also has a presence indication LED phantom power and an output on gold-plated XLR delivering a signal to the irreproachable integrity. It is sold with a suspension and a carrying case.

The C-3 offers the latest technology to everyone.
User's advice Static Microphone
C3 Behringer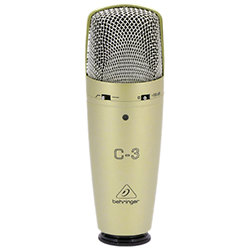 /5
2 User's advice
Bien apprendre à l'utiliser et les appareils environnant pour en faire une bonne utilisation
Visiblement ne durera pas dans le temps mais pour le prix c'est très bien
Behringer - C3
Behringer - C3
with eco participation: 0,50 €
Added to the catalog on
29/10/2013
The very famous BEHRINGER brand needs no introduction! The DJX 750 and the new DJX 900, the new NOX mixing desks and the DDM 4000, passive and active loudspeakers from the B series, EP, EPQ and EPX amplifiers, the very competitive XENYX mixers by Behringer, TRUTH studio monitors series, EPA portable PA… Quality at an unbeatable price!