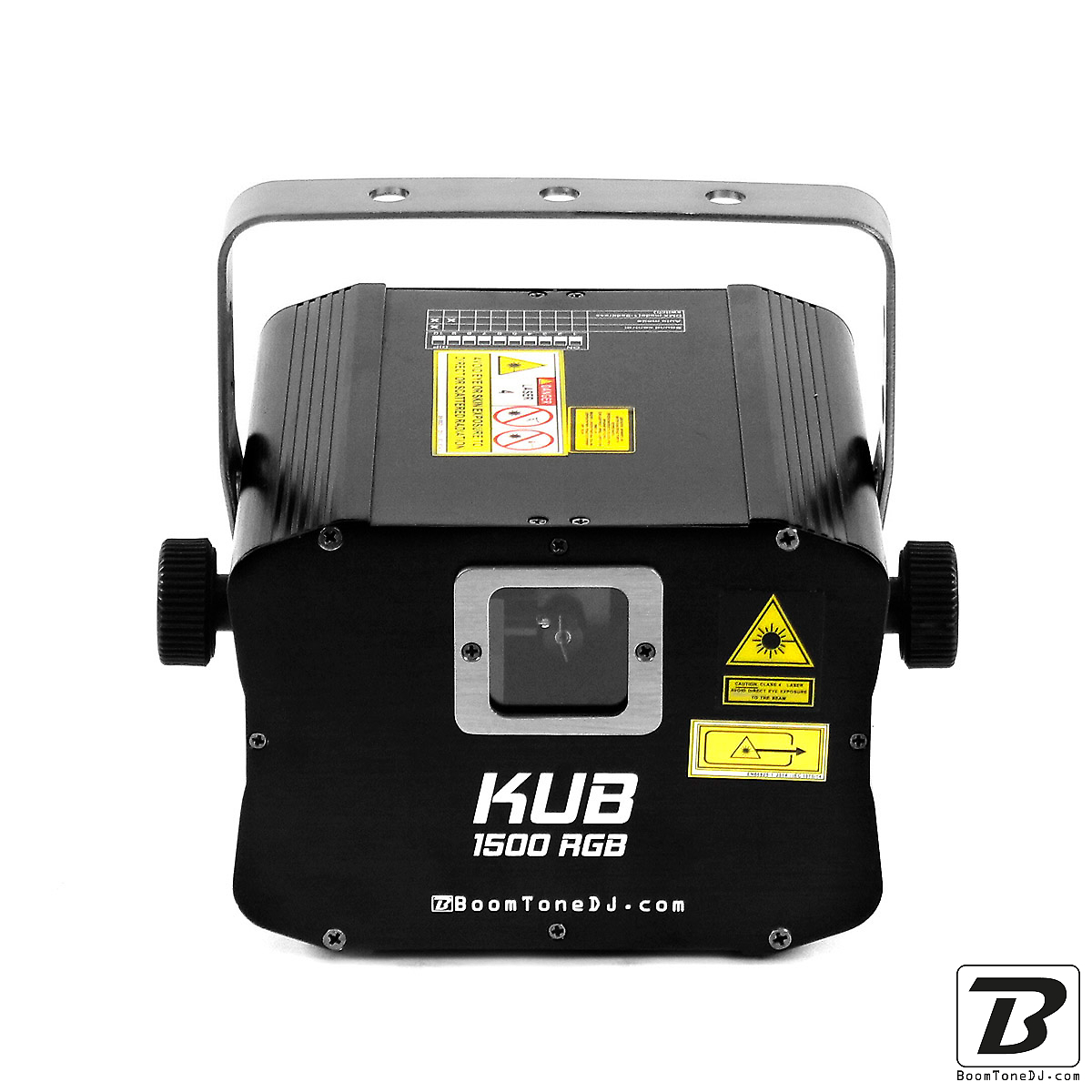 BoomTone DJ - KUB 1500 RGB
Multicolor laser
with eco participation: 0,50 €
Added to the catalog on
28/10/2015
Animation LASER BoomToneDJ KUB 1500 RGB benefiting from the latest technological advances in Performance and Safety. 128 built-in programs: tunnel, ceiling effects, DMX control (12 channels) ILDA... Ideal for mobile DJ or private parties.
KUB 1500 RGB

Multicoloured Laser

Light sources: LASER diode Red 400mW/650nm, Green 300mW/532nm, Blue 800mW/450nm

Class 4

Colours: Green, Red, Blue

Safety key

Scan Fail Safety system that automatically turns off the LASER in case of a failure of mirrors engines

Aluminum housing

Ultra-fast galvanometer scans of 20 Kpps

Automatic mode / Sound detection / DMX / ILDA

In and Out for Ilda interface

12 DMX channels, 128 automatic programs

Power supply voltage: AC100-240V/60Hz

2 layers housing for the protection of dust sensitive components (ATS Technology)

Power Consumption: 50W max

Dimensions: 193 x 215 x 136 mm

Weight: 2.5 kg

Optional interlock remote
User's advice Multicolor laser
KUB 1500 RGB BoomTone DJ
/5
11 User's advice
Repartition des notes
Cliquer pour filtrer
LOICKGOUVINE GMAIL COM G
04/02/2022
Tres bon produit , bonne puissance, connectibles peu etre un peu fragile dans la longévité.
Fait le job, et le fait bien ! Si on veut être un peu critique on peu trouver que 20 kpps ça fait un peu léger, mais à ce prix, on ne trouvera pas mieux.
Correspond à mes attentes.
Laser très lumineux et facile à exploiter. Seul bémol, la notice d'utilisation contient quelques erreurs...
BoomTone DJ - KUB 1500 RGB
BoomTone DJ - KUB 1500 RGB
with eco participation: 0,50 €
Added to the catalog on
28/10/2015
BoomTone DJ offers a wide range of speakers, wireless microphones, audio accessories, structures, accessories for musical instruments, racks, boomers and light sets...
BoomTone DJ products, developed in France, all benefit from a demanding and permanent quality control to always offer you the best quality/price ratio on the market.