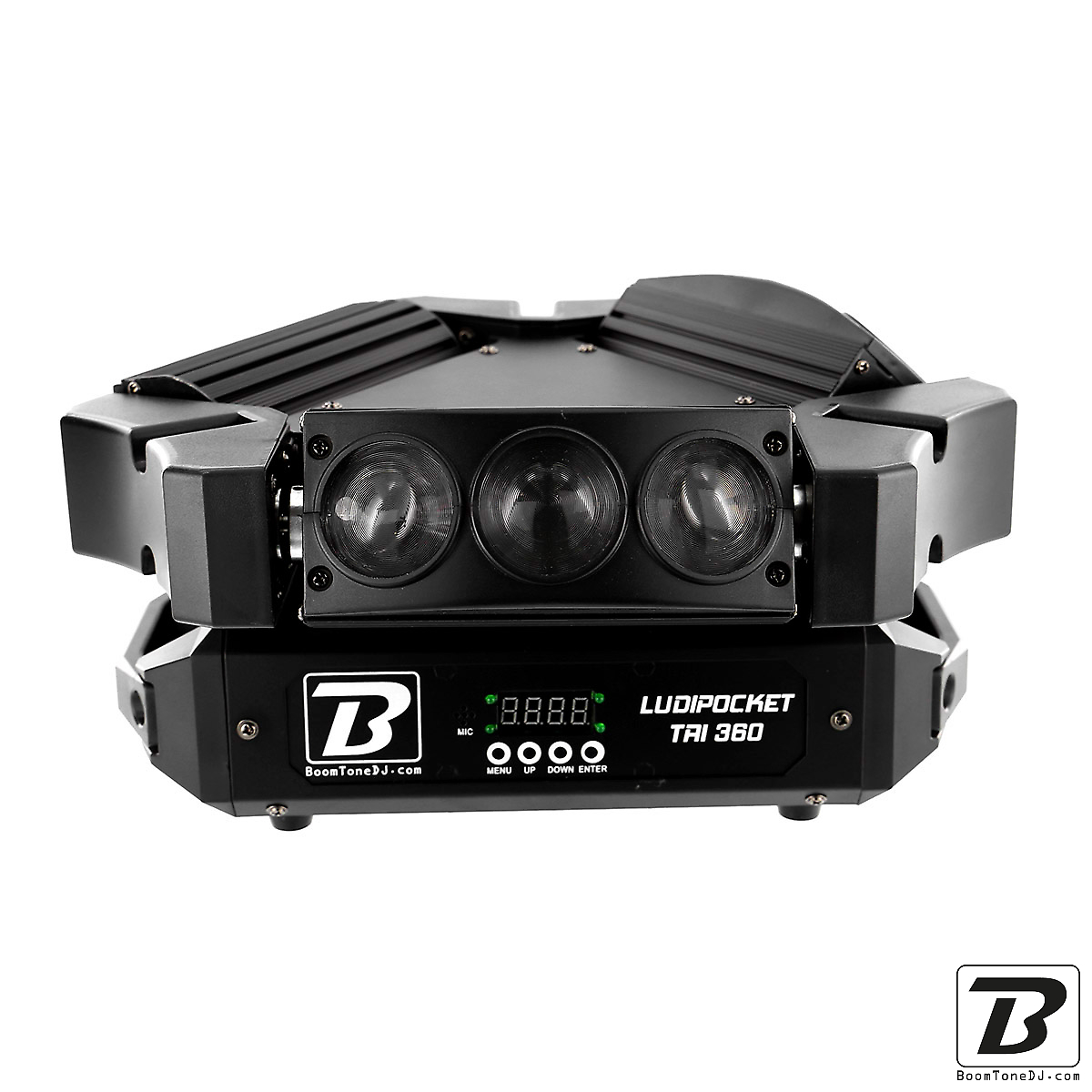 BoomTone DJ - LUDIPOCKET TRI 360
Led Lighting Effects
with eco participation: 0,50 €
Added to the catalog on
18/03/2016
Set of lights beam effect with 3 x 3 lenses, Boomtone DJ LUDIPOCKET TRI 360, 9 LED CREE of 12W RGBW 4 in 1, rotation of the LED bars and rotation of the whole at 360° for surprising effects of great quality, compact unit for an easy installation and transport.
Set of lights multicoloured with beam effect.

4 segments digital screen.

"Long Life" LED 50.000 hours

RGBW colours on each LED with mixing possibility.

DMX mode 16, 24 or 48 channels.

4 mode of operation: Auto, DMX, Master/slave, sound detection

Control of each roll individually

360° infinite rotation of the whole (PAN)

Strob: 0 13Hz

Electronic dimmer 0 100%

Power Consumption: 100W

Light source: 9 x LED Cree RGBW 12 Watts

Box dimensions: 400x245x375 mm

Gross Weight: 6.25 kg

Net Weight: 4.65 kg
Once again, Boomtone DJ offers an innovative product at an unbeatable price. Beautiful, powerful, bright, it has everything to satisfy you!
The Ludipocket 360 is a very dynamic set of lights offering a multitude of colours and fast movements.
Multi-effects
Beam effect, Rotating effect
User's advice Led Lighting Effects
LUDIPOCKET TRI 360 BoomTone DJ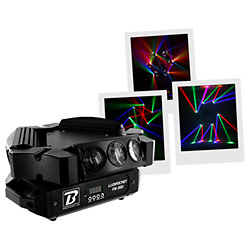 /5
5 User's advice
Repartition des notes
Cliquer pour filtrer
fabrication robuste et faisceaux assez puissants. très satisfait
Produit conforme au catalogue. Facile d'utilisation pour un rendu idéale pour DJ, le Ludopocket 360 tri est parfait pour vos soirées d'une capacité entre 50 et 100 personnes max.
Franchement pas besoin de DMX il travail bien en solo.
Je recommande, mais pour un rendu ultime il vous en faudra au moins 4.

Très bon produit facile à utiliser et très bon rendu
très bon rapport qualité prix
BoomTone DJ - LUDIPOCKET TRI 360
BoomTone DJ - LUDIPOCKET TRI 360
with eco participation: 0,50 €
Added to the catalog on
18/03/2016
BoomTone DJ offers a wide range of speakers, wireless microphones, audio accessories, structures, accessories for musical instruments, racks, boomers and light sets...
BoomTone DJ products, developed in France, all benefit from a demanding and permanent quality control to always offer you the best quality/price ratio on the market.