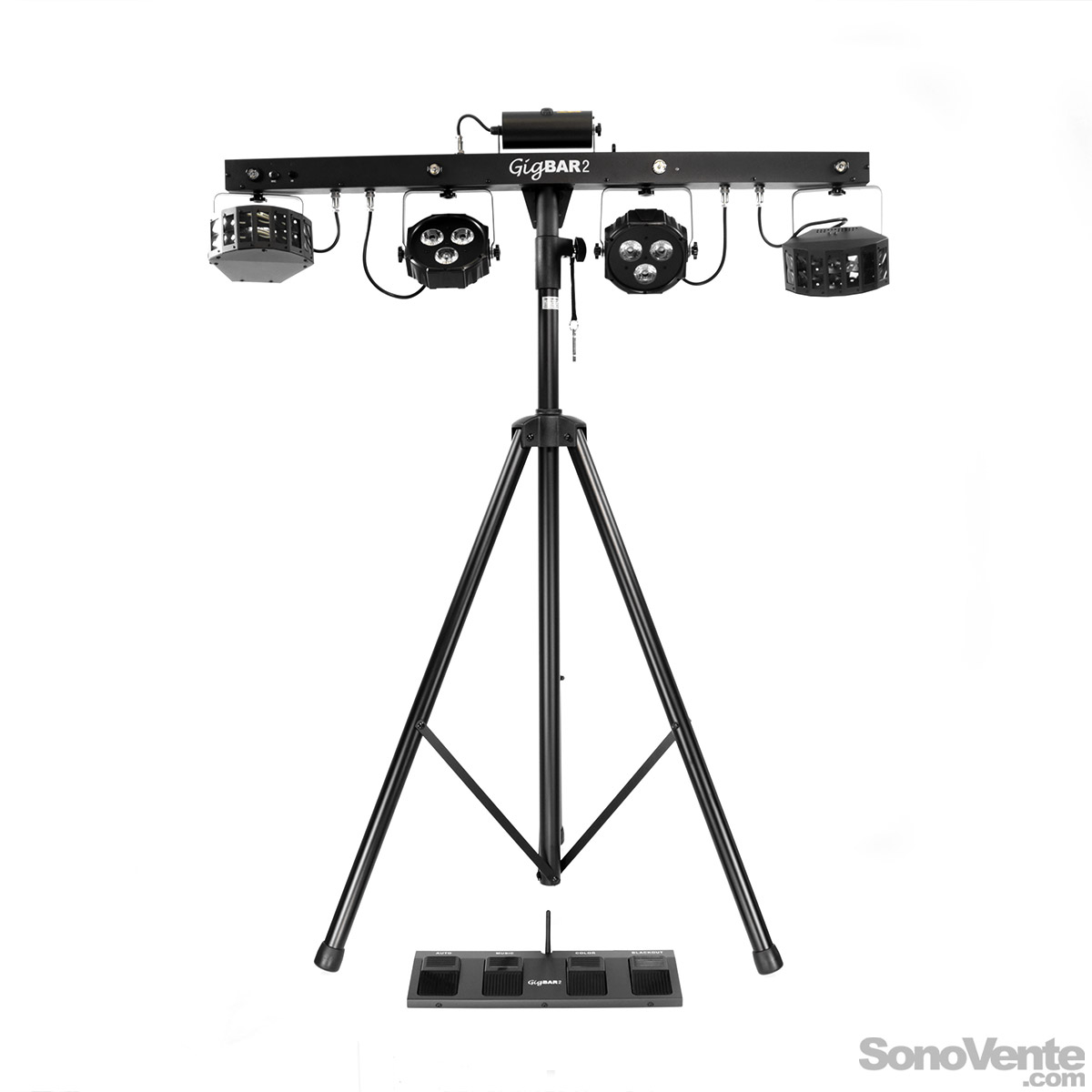 Chauvet - GigBAR 2
Led Lighting Effects
Added to the catalog on
21/07/2016
Pack of brilliant lights with 2 LEDs beam derby, leaving 2 LEDs, 4 LEDs for strobe effect and UV and 1 green and red laser. Supplied with storage case and transport crankset without battery wire, tripod and two brackets for the grounding. An electric cable to plug and go for a wild night! Add to Gigbar first name red laser and the black light, and you get the Gigbar 2, the same price!
Chauvet DJ GigBAR

2 Pack light + stand + pedal

DMX channels: 3, 11 or 23

LED Type: RGB + UV

Number of LEDs (On): 3 3.5W / 1.1A

Number LEDs (DERBY): 6 6W (1.7A)

Lasers: 1 red laser 100mW (650 nm) and one green 50mW (532 nm)

Strobe LED: white 4 + UV 1.8 W / 600mA each

life expectancy of LED estimated at 50 000 hours

Strobe: 0 to 18Hz

Angle STROBE beam: 8 °

beam Angle for: 13 °

coverage angle Derby 114 °

Laser coverage angle: 93 °

LUX (PAR): 1205 @ 2m

LUX (Strobe): 86 @ 2m

electrical link up to 15 units on a line

automated programs via master / slave or DMX

Works to the rhythm of music

carrying case Comes

Wireless control pedalboard (approx 30m radiation)

Includes t lécommande infrared IRC-6

& Power consumption: 230V-50 Hz / 64 W - 0.5 A

Dimensions: 185mm x 110mm x 1 387mm

Weight: 6.6 kg

Foot height: between 1.5 and 2.5m

New on this model:

bar Strobe can switch to black light

A red laser 100mW now accompanies the green laser (which increases his side his power, he goes from 30mW to 50mW)

the pars are equipped with UV LED to strengthen the black light effect of the bar!
The Chauvet DJ GigBAR 2 adds two original effects, it combines 4 sets of essential lights mounted on a tripod and controllable via a wireless footswitch included. This bar 4 in 1 maximizes the convenience and ease of installation for numerous manipulations and dynamic shows, whatever the event. This pack comprises two derby beam LEDs, 2 LED pars, four white LEDs + UV strobe effect and 1 green laser. Controllable as easily via IRC-6 remote or DMX, you'll be able to enjoy this bar everything that prevents you from having extension cords! light sets are interchangeable and adjustable individually.
User's advice Led Lighting Effects
GigBAR 2 Chauvet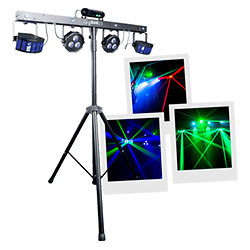 /5
24 User's advice
Repartition des notes
Cliquer pour filtrer
VALLEE DE L ARBAS M
29/04/2022
Tb

Satisfait pour un amateur
Chauvet - GigBAR 2
Chauvet - GigBAR 2
Added to the catalog on
21/07/2016
As a leading innovator in the entertainment lighting market, Chauvet has always been passionate about providing incredible lighting products and accessories with a focus on value and durability. If you're not quite sure where to start with light shows, lyres and scans, PAR projectors... check out our best sellers: the Gigbar 2 system, absolutely perfect for DJs and bands. The NImbus and Hurricane smoke machines are a must. If you want your event to come alive, trust Chauvet to get the job done right.