Chauvet - SlimPAR T12 BT
Led Par Cans
Usually shipped within 4 days
+infos
Added to the catalog on
16/04/2018
By LED SlimPAR T12 BT with 12 LED RGB 2.5 W and Bluetooth technology to control light from your tablet or smartphone via the application BTAir. Very quiet and compact, it fits perfectly on the structures. Compatible IRC-6 remote control.
Chauvet SlimPAR T12 BT DJ

SlimPar 12 2.5W

RGB LEDs Built in Bluetooth

Type: LED RGB Tri

Infrared Control: Yes (with optional IRC 6 remote control)

LUX: 5 340 @ 2m

Number of LEDs: 12 of 2.5W

DMX channels: 3 or 7

Beam (angle): 14 °

Opening (angle): 27 °

Number reliable: up to 24 units (230V)

Power & consumption: 230V 50 Hz / 48 W 0.3A

Dimensions: 264 x 214 x 76.9 mm

Weight: 1.2 kg
User's advice Led Par Cans
SlimPAR T12 BT Chauvet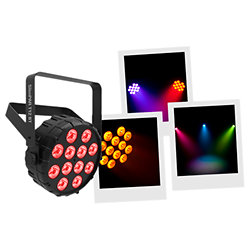 /5
1 User's advice
Très bon rendu des couleurs et plus facile à utiliser en mode Bluetooth qu'avec la télécommande IRC 6.
Chauvet - SlimPAR T12 BT
Chauvet - SlimPAR T12 BT
Usually shipped within 4 days
+infos
Added to the catalog on
16/04/2018
As a leading innovator in the entertainment lighting market, Chauvet has always been passionate about providing incredible lighting products and accessories with a focus on value and durability. If you're not quite sure where to start with light shows, lyres and scans, PAR projectors... check out our best sellers: the Gigbar 2 system, absolutely perfect for DJs and bands. The NImbus and Hurricane smoke machines are a must. If you want your event to come alive, trust Chauvet to get the job done right.