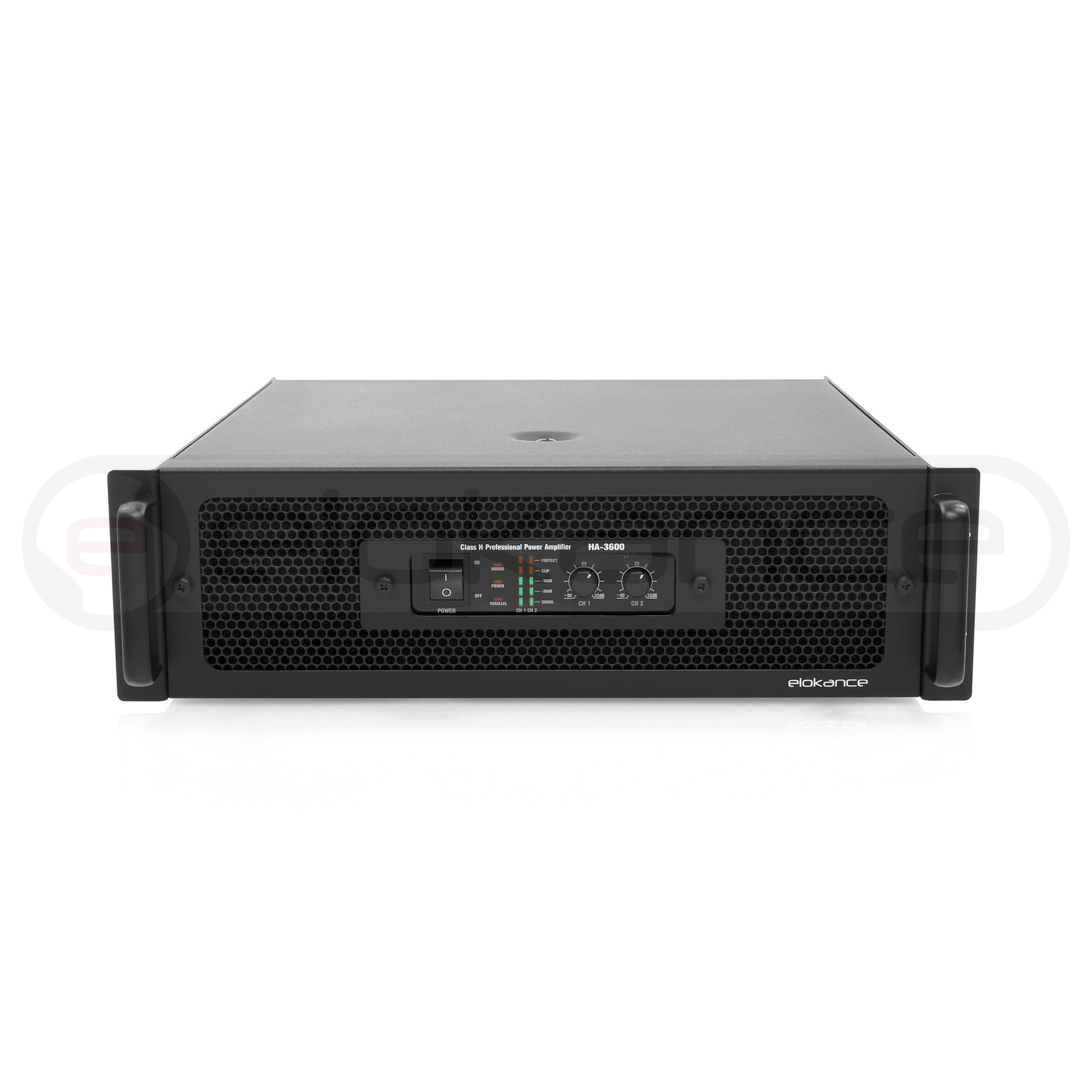 Elokance - HA 3600
with eco participation: 2 €
Victim of its success
Contact us for delivery times
Satisfied or refunded until 15/01/2024*
PA Amplifier
Power amplifier for professionnal PA systems. Based on H class technology which operates the output stage to its maximum efficiency all the time. High-pass / Low-pass built-in crossovers, stereo / bridge / parallel modes and a power of 2x1800W RMS @4 Ohms.
ARTICLE N° 41475
Type 2CH Amplifier H-class

RMS Power @8 ohms 1200W

RMS Power @4 ohms 1800W

RMS Power @2 ohms 2200W

RMS Power Bridge Mono @8 Ohms 3600W

RMS Power Bridge Mono @4 Ohms 4400W

Frequency Range 20Hz-20kHz

Damping Factor (1kHz @8 ohms) >500

Input CMRR (1kHz) >60dB

S/N Ratio >112dB

Dimensions 133x483x444 mm

Net Weight 79.4 lbs

Hi-Pass X-over built in 100Hz

Low-Pass X-over built-in 100Hz
Elokance presents its range of amplifiers in class H, HA series consists of 4 models: HA-1000 HA-1600 HA-2400 and HA-3600. These amplifiers are specifically designed to power the speakers in the E-series and PRO BRUTAL system.
Elokance - HA 3600
Elokance - HA 3600
with eco participation: 2 €
Victim of its success
Contact us for delivery times
Satisfied or refunded until 15/01/2024*
With more than 10 000 systems per year, Elokance is now the most sold brand in France! DJ oriented 3 ways systems, high end active loudspeaker with integrated DSP or full concept for nightclubs, Elokance answers all the needs of the most demanding clients. Price, Sound, Quality… Elokance is the "Sound Evolution!"