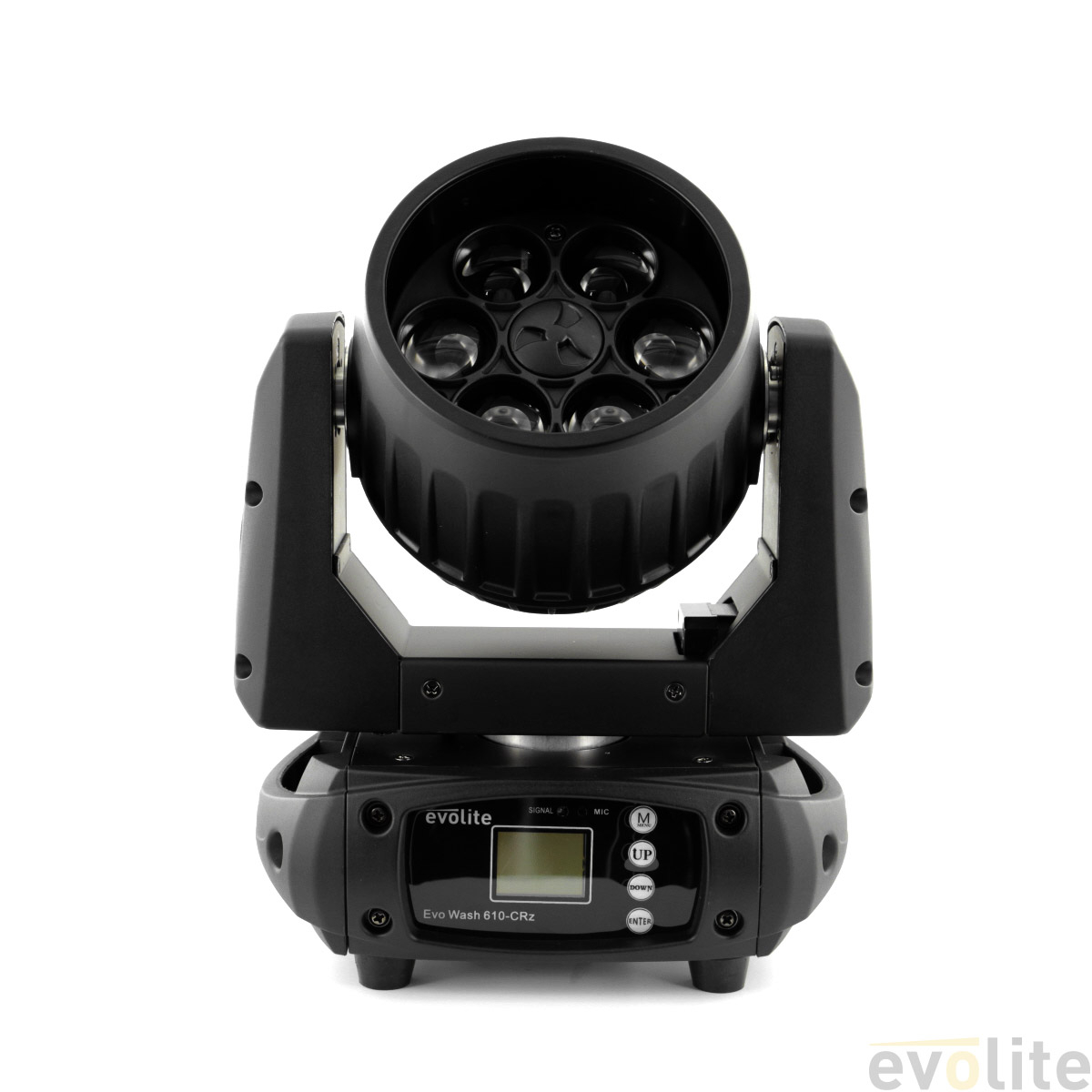 Evolite - EVO Wash 610-CR Z
Moving Heads Wash
with eco participation: 0.50 €
Added to the catalog on
14/08/2018
Evolite Evo Spot 610-CRz LED wash bracket with zoom, from the Compact Range series, a high-performance bracket with 6 x 10W RGBW Quad LEDs in an ultra-compact housing! Ideal for DJ, Disco-Mobile, Clubs, Bars, Restaurant, Reception Hall...
LED Wash Lyre of the EVOLITE Compact Range

PAN rotation 360°/540°/630° and TILT 90°/180°/270° rotation

Equipped with 6 LEDs of 10W RGBW 4in1

CTB / CTO 2700K 8000K

Control modes: DMX cable, automatic, automatic with sound detection.

2 DMX modes: 13 or 15 channels

Beam angle: 6° 60°.

Ultra clear optics

Very dynamic and varied Automatic Modes

Totem Modes (180°)

Motorized zoom

1.2' TFT colour display

Luminous flux at 6°: 45540 lx @ 1m

Comes with omega mounting brackets

Forced ventilation cooling

Power consumption: 120W max

Dimensions of the device: 243 x 151 x 278 mm

Carton dimensions: 345 x 225 x 365 mm

Gross weight: 5.38 kg

Net weight: 3.88 kg
Evolite presents its Compact Range of Compact Range Readers. A complete range of powerful and efficient LED lyre. The Compact Range series is designed to meet the specific needs of DJs who want a reliable, high-performance and compact product for transport.
Evolite - EVO Wash 610-CR Z
Evolite - EVO Wash 610-CR Z
with eco participation: 0.50 €
Added to the catalog on
14/08/2018
Lighting products for the most sophisticated events and professional's entertainment! Evolite's French engineers have designed a range of highly reliable professional lighting products at a very affordable price. Lyres and scans, lasers, fog machines, architectural projectors... all equipped with the latest technologies for amazing light shows!