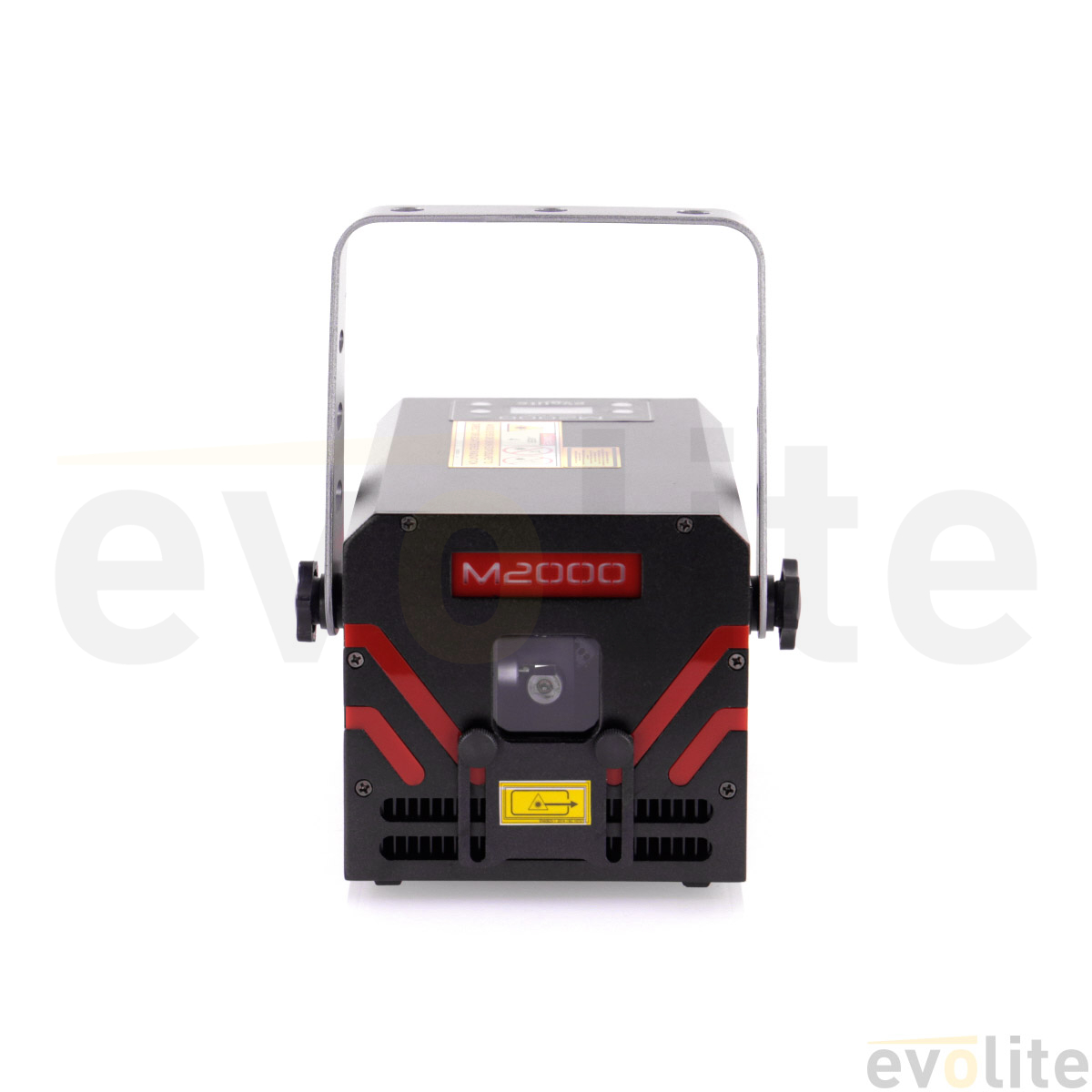 Evolite - M2000
Multicolor laser
with eco participation: 0,50 €
Added to the catalog on
19/06/2018
Evolite M2000 Professional LASER, analog modulation, total power 2W RGB, 25 kpps@8° galvo scans, ideal for projection and volumetric effects, ultra-compact case!
Evolite M2000 Premium Professional LASER

Analog modulated sources

Red 638nm 500mW 500mW

Green 520nm 500mW 500mW

Blue 450nm 1000mW 1000mW

Total power: 2000mW

Max. projection angle: 40°.

Analog Modulation

128 pre recorded figures and animations

Class 4

Galvo scans 25 kpps@8°

ILDA interface in&out

Scan Fail Safety" system that automatically switches off the LASER in the event of a defect in the mirror motors.

Interlock connector for remote stop button (optional)

LED LASER beam exit indicator

Safety key to lock the LASER ignition

Possibility to disable the lighting of the logo on the front panel via the menu

Supply voltage: AC100 240V 50/60Hz

2 part housing, for the protection of dust sensitive components (ATS Technology)

Dimensions: 138x230x126 mm

Weight: 3.2 kg
This LASER benefits from the ATS system that protects sensitive internal components from dust and smoke. Thanks to this process, you will fully benefit from the luminous power of your LASER in all circumstances and in the long term.
User's advice Multicolor laser
M2000 Evolite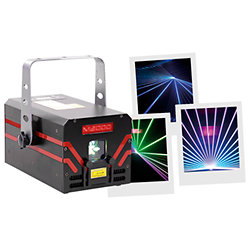 /5
3 User's advice
Repartition des notes
Cliquer pour filtrer
la qualité de ce produit est top
J'hésitais sur un modèle assez lumineux pouvant compléter mes 6 Leds Guns de Contest et 4 Gobo Motion d'ADJ. Je possède également déjà un Britecq Spectra 3D, je me sers surtout des effets 3D dans ce dernier. En ce qui concerne le M2000, il faut oublier les programmes auto très succints (pas fan du tout des figures également, voir sauter des autruches ou des cochons, bof..). Je n'ai pas le temps de l'utiliser en Ilda lors de mes spectacles, je l'ai donc programmé en DMX, et là on a accès à de multiples effets. Magnifique à condition bien sûr d'utiliser une machine à brouillard. Largement suffisant pour une salle de 400 personnes. Pas encore testé en plein air, mais projeté depuis ma fenêtre sur les arbres du voisinage en pleine nuit pour tester, il est vraiment très lumineux.
rapport poids/puissance excellent.
Magnifique laser, très puissant, des couleurs et des shows splendides, très simple d'utilisation.
Evolite - M2000
Evolite - M2000
with eco participation: 0,50 €
Added to the catalog on
19/06/2018
Lighting products for the most sophisticated events and professional's entertainment! Evolite's French engineers have designed a range of highly reliable professional lighting products at a very affordable price. Lyres and scans, lasers, fog machines, architectural projectors... all equipped with the latest technologies for amazing light shows!