Stagg - C440 M BLK Pack
Classical Guitar 4/4
Usually shipped within 3 days
+infos
Added to the catalog on
13/04/2016
Pack with a classic black guitar with 4/4 lime table, a recommended size for teens and adults, plus a cover to carry and a chromatic tuner!
Stagg C440 PACK M BLK

Pack including:

1 classical guitar 4/4 black with lime

table 1 black chromatic tuner clip

1 nylon bag with 2 straps and handle 1
STAGG, the brand that travels with you, you do a light performance, deejay, music or that brings all these worlds, whether for the cabling, lyres, wind instruments, guitars ... A complete brand fits all needs, you'll always find what you need in STAGG!
User's advice Classical Guitar 4/4
C440 M BLK Pack Stagg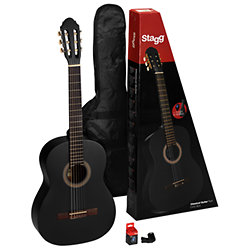 /5
1 User's advice
Guitare noire mat vraiment magnifique. Suite a mes question, les vendeurs ont repondu tres rapidemment. L'envoi est rapide. Top!
Stagg - C440 M BLK Pack
Stagg - C440 M BLK Pack
Usually shipped within 3 days
+infos
Added to the catalog on
13/04/2016
From drums, cymbals, percussion instruments, stands, speakers, electric guitars and more, Stagg offers a wide variety of musical instruments and accessories. Since 1995, Stagg has been committed to helping people from all walks of life realize their full musical potential through its comprehensive line of instruments and accessories.