American DJ - Quad Phase HP
Led Lighting Effects
with eco participation: 0,50 €
Victim of its success
Contact us for delivery times
Added to the catalog on
04/12/2013
Moonflower Effect ultra powerful beams and very clear, ADJ HP Quad Phase LED QUAD 4-in-1 RVBbl (Red, Green, Blue and White) 32W
Moonflower effect with a super powerful LED QUAD 4-in-15rouge, green, blue and white) of 32W and produces very sharp beams color change

Dozens beams fill a dance floor, a mor or ceiling

Motor step by step micro-step 1.8 ° for very precise and fluid movements to the rhythm of music

4 DMX channels (color, rotation, strobe, dimmer)

Operating modes: music mode, master / slave or DMX-512

Exciting Internal programs (in music mode or master / slave)

Product 15 different preset colors

Chainable Cable DMX 3 poles

LED display four navigation buttons at the rear of the unit

Beam aperture angle: 65 degrees

Pulse and strobe effect

DMX-512 protocol

Electronic Dimming 0-100%

Does not require cooling cycle

Compatible with the UC3 remote series of ADJ (sold separately)

Input / IEC outputs at the rear for chaining up to 5 HP Quad Phase 120V or 9 HP Quad Phase 230V

Security eyelet at the back

Power consumption: 64W max

Fan cooling

Fuse: T 6.3A

Multi voltage supply: 100 ~ 240V, 50 / 60Hz

Battery operated and industry

Long-life LED (estimated at 30,000 hours)

LED Source: 32W QUAD 4-in-1 RVBbl

Dimensions (LxWxH): 312 x 198 x 279mm

Weight: 4 kg
With 15 vibrant colors, it offers twice as many colors as the Tri Phase ADJ.
Power type
Power adapter (included), Rechargeable battery
User's advice Led Lighting Effects
Quad Phase HP American DJ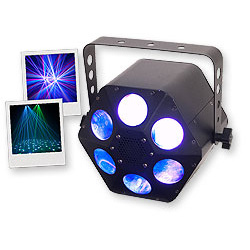 /5
4 User's advice
Repartition des notes
Cliquer pour filtrer
Marche bien et belle effet
bon produit et je me suis déplacé en magasin pour voir l'effet que cela donnait
American DJ - Quad Phase HP
American DJ - Quad Phase HP
with eco participation: 0,50 €
Victim of its success
Contact us for delivery times
Added to the catalog on
04/12/2013
Since 1985, American DJ has continued to develop and improve its line of equipment for mobile entertainers, and its outstanding line of DJ gear is no exception. From gobo projectors to DJ stands, lighting effects to LED PARs to flight cases and more, you can be sure that ADJ has the tools you need to make your talent shine!