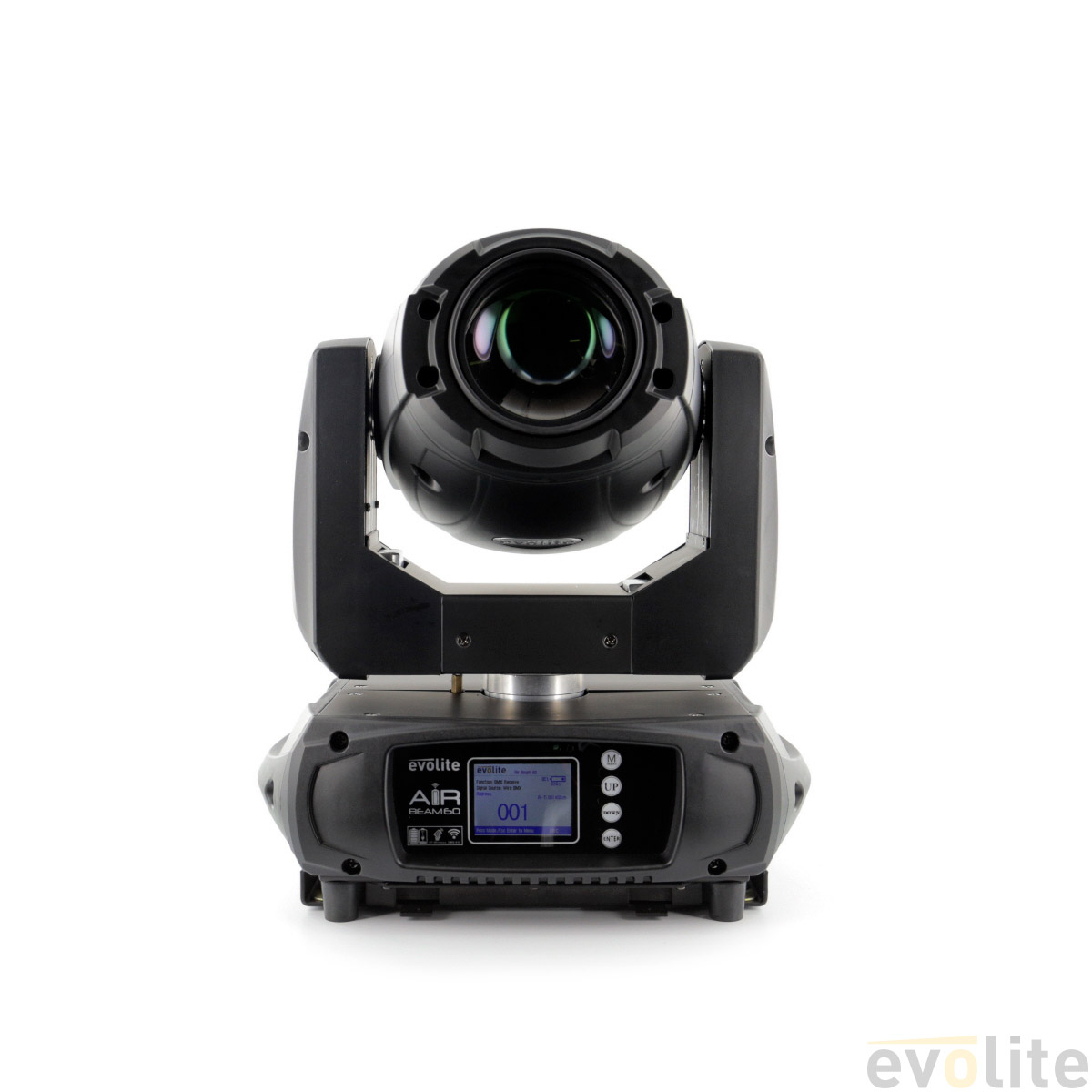 Evolite - Air Beam 60
Moving Heads Beam
with eco participation: 0,50 €
Added to the catalog on
14/08/2018
Moving heads Evolite Air Beam 60W, which can be operated on mains or on an integrated battery (Range from 7 to 9 hours), wireless DMX and HF remote control, a revolution that will allow you to use your moving head without any technical constraints! NO MORE CABLES, Don't Plug, Just Play!
Moving heads LED on battery

An Evolite exclusivity!

PAN rotation 360°/540°/630° and TILT 90°/180°/270° rotation

Equipped with a 60W LED

Can be used on mains or integrated battery

Microprocessor controlled battery

Battery charging time: 5 6 hours

Battery autonomy in normal use: 7 8 hours

Battery autonomy in power saving mode ( 10% brightness): 8 9 hours

Control modes: DMX cable, W DMX (wireless), automatic, automatic with sound detection, including wireless remote control.

2 DMX modes: 9 or 11 channels

Beam angle: 2°.

Ultra clear optics

Very dynamic and varied Automatic Modes

Totem mode (180°)

14 colour wheel + white

17 Gobo fixed wheel

8 sided rotating prism

2.4"" TFT color display

Luminous flux: 22310 lx @ 2.5m

Illuminance: 1480 lumen

Comes with omega mounting brackets

Cooling by forced ventilation, thermo regulated

Power consumption: 175W max

Lithium ion batteries 20650

Number of modules: 36

Battery voltage: 22.2V,

Capacity: 20Ah

Protection against temperature variations

Microprocessor protected battery against overloads and short circuits

Battery dimensions: 188x142x45mm

Battery weight: 2.24 kg

Dimensions of the device: 385 x 306 x 224 mm

Package dimensions: 405 x 300 x 455 mm

Gross weight: 13.2 kg

Net weight: 11.2 kg
Evolite proves once again that innovation is its priority! The Air series (Don't Plug, Just Play) offers a series of autonomous lithium battery powered moving heads equipped with the WDMX system (wireless DMX) for transmission/reception. NEVER seen! No more cables! Save precious time during your events!
Evolite - Air Beam 60
Evolite - Air Beam 60
with eco participation: 0,50 €
Added to the catalog on
14/08/2018
Lighting products for the most sophisticated events and professional's entertainment! Evolite's French engineers have designed a range of highly reliable professional lighting products at a very affordable price. Lyres and scans, lasers, fog machines, architectural projectors... all equipped with the latest technologies for amazing light shows!