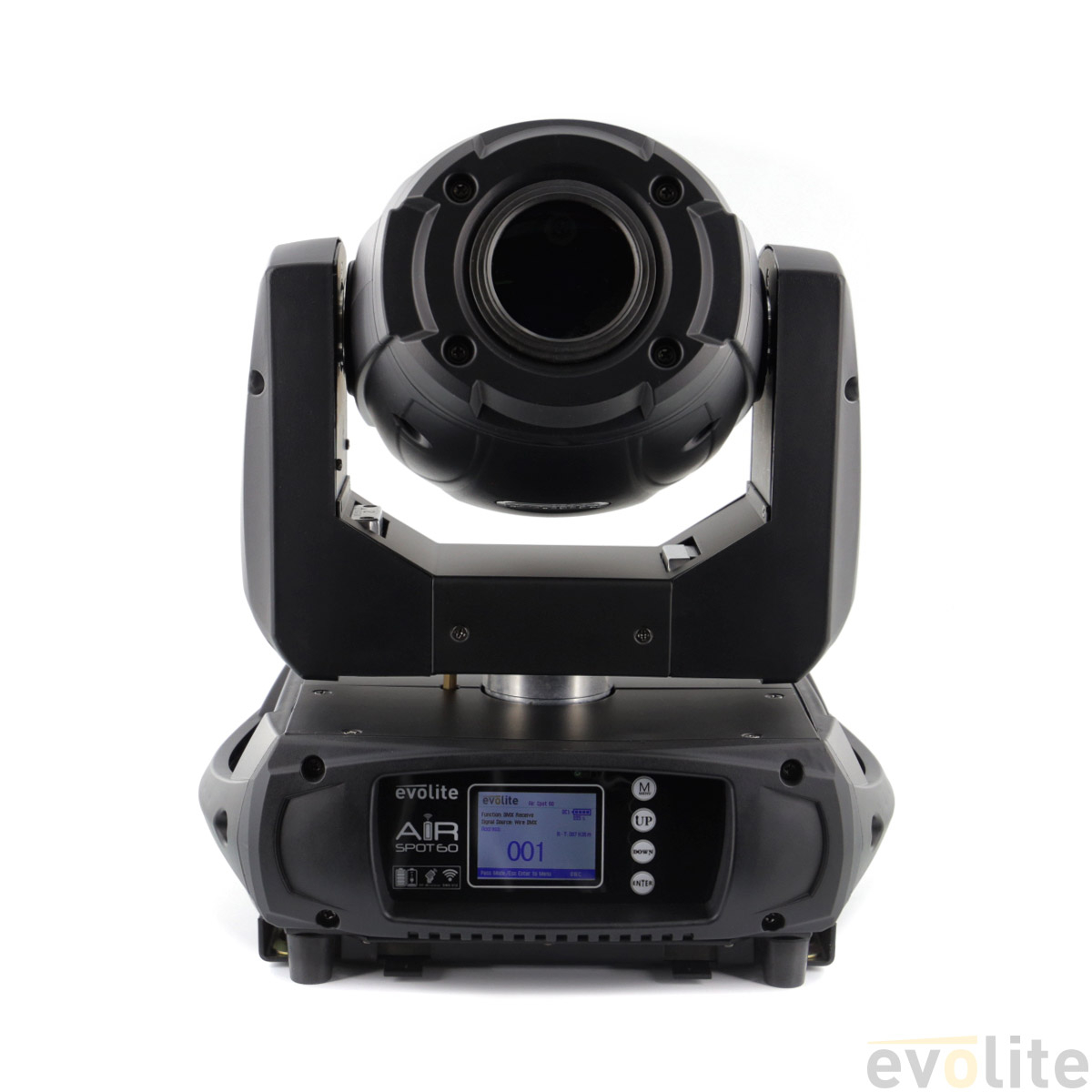 Evolite - Air Spot 60
Moving Heads Spot
with eco participation: 0.50 €
Out of stock
Contact us for delivery times
Added to the catalog on
14/08/2018
Moving heads Evolite Air Spot 60 on battery, which can operate on mains or integrated battery, wireless DMX and remote control, a revolution that will allow you to use your spotlight without any technical constraints! NO MORE CABLES! Battery autonomy from 7 to 9 hours. Don't Plug, Just Play!
Battery powered LED Moving Heads

An Evolite exclusivity!

PAN rotation 360°/540°/630° and TILT 90°/180°/270° rotation

Equipped with a 60W white 7500K LED

Can be used on mains or integrated battery

Microprocessor controlled battery

Battery charging time: 5 6 hours

Battery autonomy in normal use: 7 8 hours

Battery autonomy in power saving mode ( 10% brightness): 8 9 hours

Control modes: DMX cable, W DMX (wireless), automatic, automatic with sound detection, including wireless remote control.

2 DMX modes: 13 or 11 channels

Beam angle: 12°.

Ultra clear optics

Very dynamic and varied Automatic Modes

Totem Modes (180°)

Wheel of 7 colors + white

Wheel with 6 interchangeable rotating Gobos (Outer diameter: 21.8mm. Inner diameter: 14.5mm)

3 faceted rotating prism

2.4"" TFT color display

Luminous flux: 7511 lx @ 2.5m

Comes with omega mounting brackets

Cooling by forced ventilation, thermo regulated

Power consumption: 190W max

Lithium ion batteries 20650

Number of modules: 36

Battery voltage: 22.2V

Capacity: 20Ah

Protection against temperature variations

Microprocessor protected battery against overloads and short circuits

Battery dimensions: 188x142x45mm

Battery weight: 2.24 kg

Dimensions of the device: 385 x 306 x 224 mm

Package dimensions: 405 x 300 x 455 mm

Gross weight: 12.6 kg

Net weight: 10.6 kg

Optional Flightcase: reference Air Spot 60 Flightcase 2in1

Additional external battery available as an option: reference Air External Battery
Evolite proves once again that innovation is its priority! The Air series (Don't Plug, Just Play) offers a series of autonomous lithium battery powered moving heads equipped with the WDMX system (wireless DMX) for transmission/reception. NEVER seen! No more cables! Save precious time during your events!
Pan & Tilt
Pan - 540°/630° ; Tilt - 270°
Power type
Rechargeable battery, PowerCON
Evolite - Air Spot 60
Evolite - Air Spot 60
with eco participation: 0.50 €
Out of stock
Contact us for delivery times
Added to the catalog on
14/08/2018
Lighting products for the most sophisticated events and professional's entertainment! Evolite's French engineers have designed a range of highly reliable professional lighting products at a very affordable price. Lyres and scans, lasers, fog machines, architectural projectors... all equipped with the latest technologies for amazing light shows!