Neumann - U 87 Ai Studio Set Ni
Static Microphone
with eco participation: 0,07 €
Added to the catalog on
13/05/2013
The U87 Ai Studio Set is a set including a U87 Ai mic, plus its EA 87 suspension
THE reference in the recording industry for more than 40 years

Set including:

A U87 Ai microphone delivered in its wooden box

Suspension EA 87

The U87 Ai Studio Set is available in both historic colors Neumann
Application
Singing, Strings instruments, Speaking voice, Acoustic guitar, Drum / Percussions
Directivity
Bidirectional (Figure-8), Cardioid, Omnidirectional
Switchable Bass-Cut filter
User's advice Static Microphone
U 87 Ai Studio Set Ni Neumann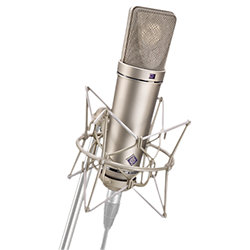 /5
1 User's advice
Microphone de qualité, incontournable. Sa tonalité est plutôt neutre, ce qui le rend très polyvalent.
Neumann - U 87 Ai Studio Set Ni
Neumann - U 87 Ai Studio Set Ni
with eco participation: 0,07 €
Added to the catalog on
13/05/2013
A legendary brand for decades, present in all the major recording studios, Neumann is a guarantee of high quality and professionalism. The Beatles, Natalie Cole, Celine Dion, Bryan Adams and Beyoncé... all use this exceptional brand with the famous U87, and the TLM49 at the top of the list. In home studio, the TLM103 and TLM102 condenser microphones are the most popular. For studio sound on stage opt for the KMS105. In recent years, Neumann has also offered the high-end KH80, KH120 and KH310 monitors.