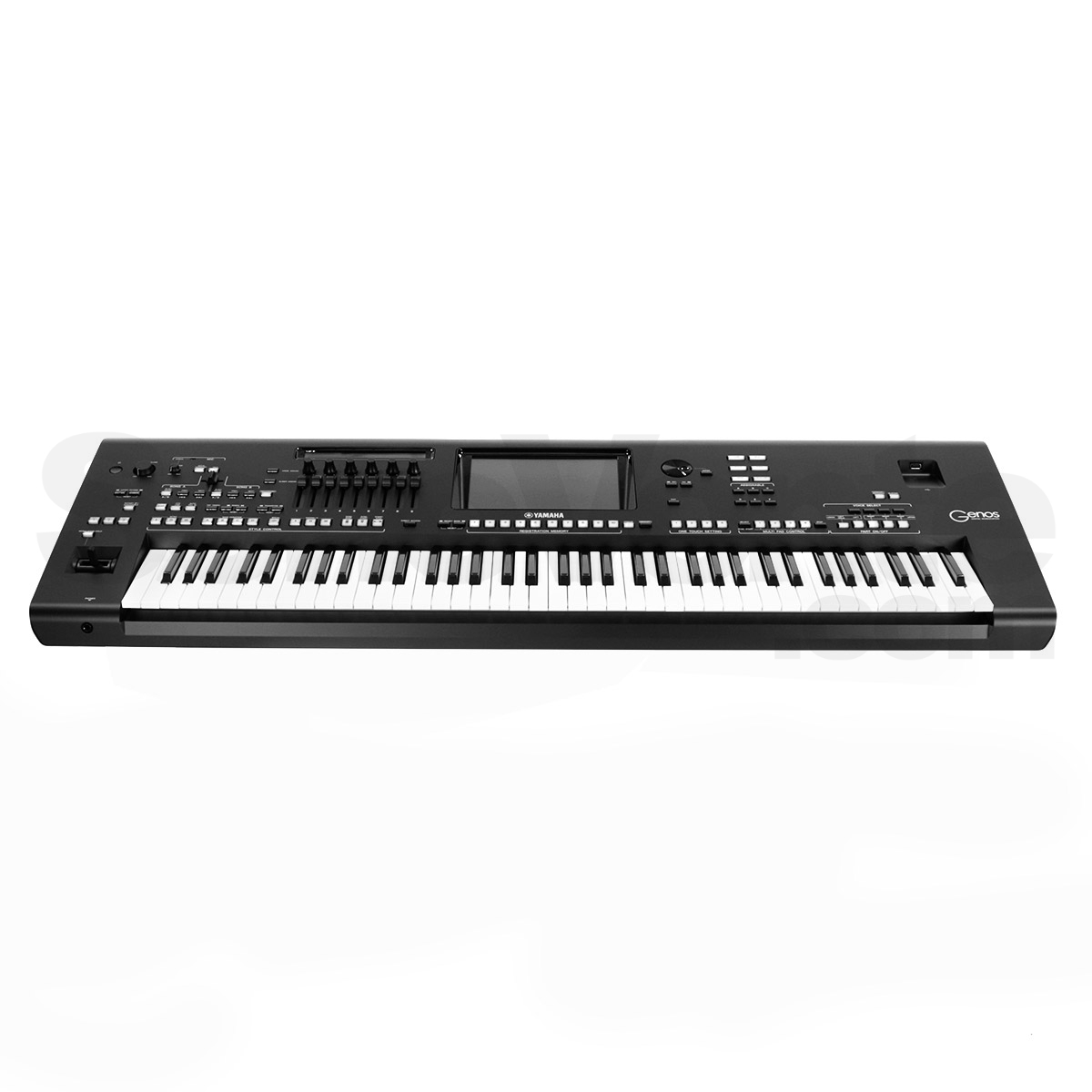 Yamaha - Genos
Keyboard with Dynamic Touch
Observed retail price
4 345 €
with eco participation: 0,50 €
Added to the catalog on
17/10/2017
You dream of an instrument that is both pro and easy? Yamaha did it. Genos offers a very dense content: 1700 exclusive sounds, 550 hyper-realistic styles, an arpeggiator with a huge library, multiple Multi Pads, and much more. The Genos is not only the ideal instrument to play with professional quality, it becomes the indispensable partner for all those who want to write and build their own music at home, on stage or in studio.
Yamaha Genos

Digital Workstation 76-Key FSX (Organ) Keypad with Aftertouch and 7 Types of

Response 9 "/ 800 x 480 TFT Color Main Touch Screen with

Multilingual Support 589 OLED Secondary Display x 48 non touch

Controllers: joystick, six assignable Live Control knobs, 9 assignable Live Control sliders, three switch and a

crossfader Sound generation engines: AWM (stereo sampling) and AES

technology 256 voices of maximum polyphony

1,652 tones and 58

drum and effects kits Compatible with XG, GS, GM and GM3

Effects section with 59 reverb and 3 user presets, 107 chorus and 3 user presets, 5 compression presets master and 5 user, 5 presets equalizer master and 2 user, 28 parts for Part EQ, a DSP with 358 presets of variation (with VCM) and 3 user as well as 358 presets of ins ert (with VCM) and 10 user

54 vocal harmony and vocoder presets

Noise gate effects, compressor, vocal equalizer for microphone input and 23 voice effects

550 accompaniment styles with different types fingering and several controls (three intros, four main variations, four fills, four breaks and three ends), 4 One Touch settings per style; SFF compatibility, GE

448 banks of 4 pads with audio chaining

9 demo songs, 11 song presets

16 tracks recorder with Quick, Multi Track and Step functions, SMF and XF formats

Recorder and audio player WAV 16-bit / 44.1 kHz stereo and MP3 (for playback, up to 320 kbps in stereo) with time stretch functions, pitch shift, voice deletion, harmony / echo, arpeggiator, mono / poly

Creator of styles and multi-pad

10 buttons for the function Registration with sequence and freeze

Display of partitions and lyrics of songs

Metronome between 5 and 500 BPM with tap tempo

Transposition on +/- 12 semitones

Tuning between 414.8 and 466.8 Hz in steps of 0.2 Hz

Octave Transposition

9 types of

series Internal memory of approximately 58 GB and three USB to Device ports

headphone output 3 inputs for pedal

Mic input on combo with 48V phantom power

2 MIDI inputs and outputs

2-channel auxiliary input

coaxial digital output Main outputs two channels, and four subs / auxiliary outputs

USB to Device port

LAN in some regions

Dimensions: 1234 mm x 456 mm x 138 mm

Weight: 13 kg

Intuitive navigation with touch screen, easy access to a creative world, easy storage with unlimited space for your creativity, a breathtaking professional sound, totally new features, professional connectivity, compatibilities and extensions galore: Take control of your music!
Control pedal input
Sustain, Volume, Footswitch
User's advice Keyboard with Dynamic Touch
Genos Yamaha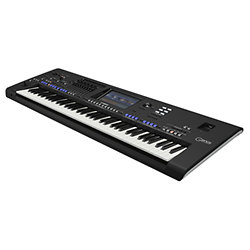 /5
3 User's advice
Repartition des notes
Cliquer pour filtrer
Bien penser facile a manipuler styles et son retravailler pour un arrangeur c'est Top.

Yamaha - Genos
Yamaha - Genos
Keyboard with Dynamic Touch
Observed retail price
4 345 €
with eco participation: 0,50 €
Added to the catalog on
17/10/2017
Yamaha, a company born in 1887 with the impulse of Torakusu Yamaha, has always been THE safe bet, whether it is for PA systems or for musical instruments! The unavoidable DSR, DXR and MSR loudspeakers, the globally known MG mixing desks, the amazing portative PA system Stagepas, keyboards and digital pianos, acoustic and electronic drum set… Yamaha, the choice of heart and reason, for the passionate and the connoisseur.