Yamaha - P-45 Meuble
This product is no longer available for sale
These models in stock might interest you: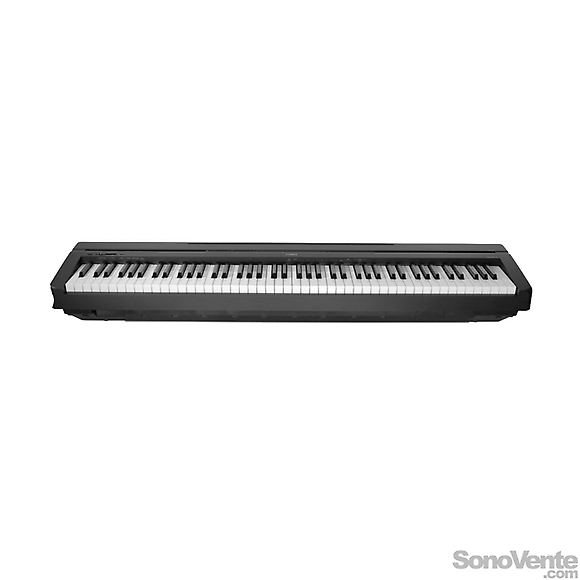 Portable Piano
with eco participation: 0,50 €
Added to the catalog on
05/08/2015
Fantastic Digital Piano 88 keys at an unbelievable price, exceptional services with mechanical GHS, and a piano sound sampled in stereo. Thanks to its compactness and light weight, it can take anywhere, whether to rehearse, perform before an audience, or simply at home. Offer, combining piano and his P-45 YAMAHA dedicated cabinet.
Yamaha P-45 cabinet

Offer gathering the piano and his P-45 YAMAHA dedicated furniture

Portable Piano Excellence

Keyboard Graded Hammer Standard (GHS) with 88 keys

Sampling AWM Stereo

10 sounds

64-note polyphony (maximum)

Dual Function and Duet Mode

Reverb and Chorus Effects

Intelligent Acoustic Control

10 demo sounds and 10 pre-recorded songs

Metronome

1 headphone input

AUX output

USB-to-host

Speakers 2 x 12 cm

Amplification: 2 x 6 watts

Dimensions: 295 x 1326 x 154 mm

Weight: 11.5 kg

Colour black
The P-45 offers exceptional value for money with an ultra-compact design guaranteeing a perfect use in all places and in all circumstances. The Graded Hammer Standard keyboard with matte black keys, offers a perfect balance. His 64-note polyphony (max) enables optimal usage of its 10 sounds sampled in stereo reverb effects embellished / chorus. Dual mode for superimposing two tones offers multiple combinations. In the Duet Mode, the keyboard is divided into two identical playing areas so that the student can easily follow and replicate the examples performed by the teacher when learning. You can easily make a fine tuning or transpose the instrument to accompany a singer or other musicians. The USB TO HOST jack lets you connect the instrument to a computer or device using iOS. Its optional feet allow it to take place in your home as a true traditional piano giving it a solid stability.
October 1, 1987, after 100 years of existence, Nippon Gakki Ltd. changed its name to Yamaha Corporation Ltd. Thus it celebrated its 100 years of distribution of musical instruments and paid tribute to its founder, Torakusu Yamaha (April 20, 1851 - August 8, 1916).

In 1898, Yamaha Torakusu uses the image of a tuning fork in the first emblem should represent Nippon Gakki Co., Ltd., ("Japanese instruments"), the company established a year earlier.
User's advice Portable Piano
P-45 Meuble Yamaha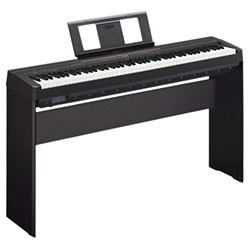 /5
19 User's advice
Repartition des notes
Cliquer pour filtrer
Très bon produit pour se lancer dans le piano. Bon rapport qualité prix !
Super achat pour un premier Piano! La lourdeur des touches comme sur un vrai piano acoustique permet d'apprendre et se familiariser. Avec ce meuble le piano est bien fixe et ne risque pas de tomber. Et cela apporte une belle touche de décoration a la pièce !
Très facile à monter et rapide à monter.
Yamaha - P-45 Meuble
Yamaha - P-45 Meuble
with eco participation: 0,50 €
Added to the catalog on
05/08/2015
Yamaha, a company born in 1887 with the impulse of Torakusu Yamaha, has always been THE safe bet, whether it is for PA systems or for musical instruments! The unavoidable DSR, DXR and MSR loudspeakers, the globally known MG mixing desks, the amazing portative PA system Stagepas, keyboards and digital pianos, acoustic and electronic drum set… Yamaha, the choice of heart and reason, for the passionate and the connoisseur.