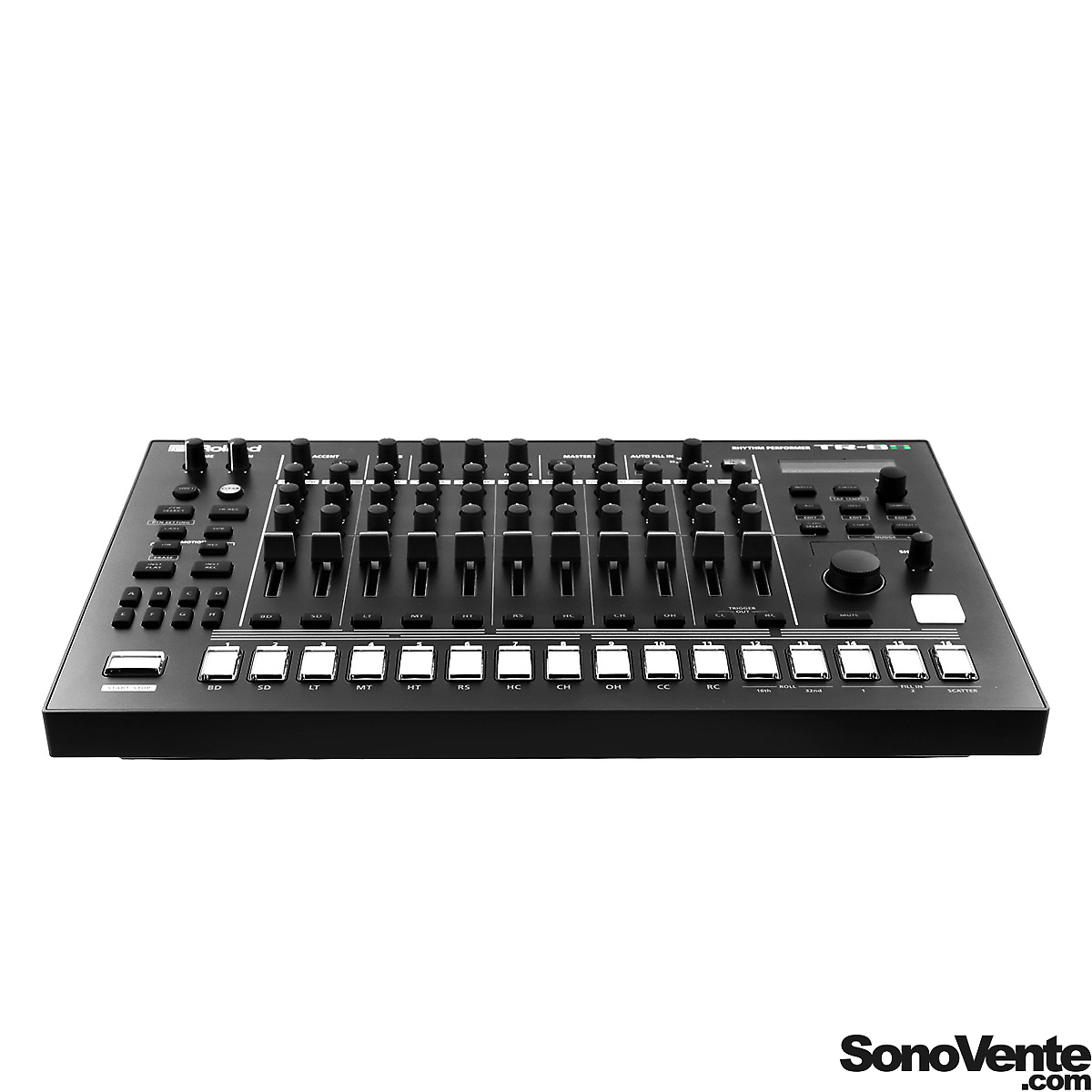 Roland - Aira TR-8S Rhythm Performer
Sampler and Groovebox
with eco participation: 0,50 €
Usually shipped within 3 days
+infos
Added to the catalog on
05/03/2018
With the Roland TR-8S drum machine, build custom kits from authentic TR sounds, stereo samples and powerful effects. Create scalable performance with 128 rhythm patterns, variations, fills, and motion recording, and sharpen your sound in the studio and power it live and on stage. A modernized look, a more powerful processor for next-generation ACB modeling and a complete bank to which you can associate your own mono or stereo samples from an SD card. An innovative integrating instrument designed to be played live and fusing the famous Roland tradition of drum machines with modern sound creation capabilities.
Roland TR-8S Rhythm Performer

Drum Machine with SD Card slot

The TR-8S embeds all the sounds of Roland's historic drum machine series (TR-808, 909, 606, 707, 727) as well as modified versions.

Sounds ACB: 11 drums, 8 snares, 15 toms, 3 rimshots, 5 claps, 8 charlesys, 8 cymbals, 23 percussions, 300 presets minimum and mono or stereo user samples in WAV or AIFF

128 kits and 128 user patterns

Sequencer of 16 steps with 11 parts of instruments, part dedicated to the trigger output, 8 variations per pattern and two fills per pattern

Effects: Thru, high-pass, low-pass, high-pass filters / low pass, bass boost, treble boost, bass / treble boost, isolator, transient processor, compressor, overdrive, compressor + overdrive and bit crusher for instruments; reverbs (ambience, room, 2 hall, flat and mod), delay (pan, echo to tape)

Master effects: high-pass, low-pass, high-pass / low-pass filters, bass boost, boost treble, boost bass / treble, isolator, 2 transient processors, compressor, drive, overdrive, distortion, fuzz, crusher, phaser, flanger, SBF and noise

sidechain effect for external input and scatter as Auto function Fill In

2-line, 16-character LCD display

7-segment, 4-character LCD display

SD / SDHC card slot

6.35-meter headphone jack output

Left / mono Mix Out output and right on 6.35 mm jacks

6 assignable outputs / trigger on 6.35 mm jacks

Left / right and left external inputs on 6.35 mm jacks

Trigger output on mini-jack of 3, 5 mm

MIDI input and output

Type B USB port with audio and MIDI support

AIRA Link

A power supply

Dimensions: 409 x 263 x 58 mm

Weight: 2.1 kg
Effects
3 multi-effects processors
User's advice Sampler and Groovebox
Aira TR-8S Rhythm Performer Roland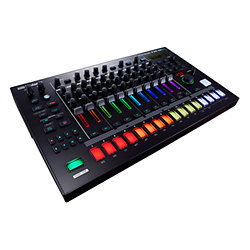 /5
11 User's advice
Repartition des notes
Cliquer pour filtrer
tres intuitif et facile a prendre en main avec un minimum de lecture du manuel d utilisation
Compliqué à prendre en main au début même avec le manuel des tutoriels en français serais vraiment top pour ceux qui débute.

Très bonne machine
c'est ce qu'il me fallait , tous les son des boite à rhythm légendaire de Roland c'est génial !!!!
Je ne peux pas encore noter, car cadeau de Noël.
Mais vu les retours et vidéos sur le net, je vais mettre 5
Roland - Aira TR-8S Rhythm Performer
Roland - Aira TR-8S Rhythm Performer
with eco participation: 0,50 €
Usually shipped within 3 days
+infos
Added to the catalog on
05/03/2018
For more than 40 years, Roland has been shaping the sound of modern music and setting standards in music technology. Advances in synthesizers, electronic drums, DJ and recording equipment and guitar products continue the brand's legacy. V-Drums (TD-1DMK, TD-17KV, TD-27KVX, and TD-07KX0K), VAD hybrid drums, digital accordions and instrument amps with Roland's famous CUBE. Look no further and take the best where it belongs!!!