Yamaha - HS8S
Studio Monitors
with eco participation: 0,50 €
Usually shipped within 4 days
+infos
Added to the catalog on
18/09/2013
Subwoofer bass reflex Amplified, high performance 150W
Subwoofer bass reflex

Amplified

Boomer 8 inches down to 22Hz

Frequency Response 22Hz - 150kHz

Amplification 150W high performance

Designed specifically for bass

Controls LOW CUT and HIGH CUT Controls 80 to 120Hz

PHASE selector to simply run a complete system

XLR and TRS inputs and XLR outputs L and R
Pregnant New Yamaha give you a more faithful reproduction of a true benchmark in monitor speakers.
Manual frequency correction
Connectors
XLR female 3 pins, Jack female Stéréo, XLR male 3 pins
User's advice Studio Monitors
HS8S Yamaha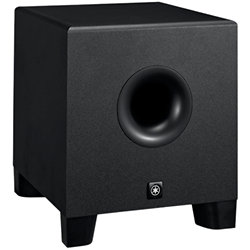 /5
3 User's advice
Repartition des notes
Cliquer pour filtrer
Complète parfaitement les monitorings de la série hs, le rendu des basses est précis qu'elles soient rondes, sèche ou granuleuse
J'avais déjà une paire de HS80M ce caisson est parfait j'en pleure à l'écoute !
Yamaha - HS8S
Yamaha - HS8S
with eco participation: 0,50 €
Usually shipped within 4 days
+infos
Added to the catalog on
18/09/2013
Yamaha, a company born in 1887 with the impulse of Torakusu Yamaha, has always been THE safe bet, whether it is for PA systems or for musical instruments! The unavoidable DSR, DXR and MSR loudspeakers, the globally known MG mixing desks, the amazing portative PA system Stagepas, keyboards and digital pianos, acoustic and electronic drum set… Yamaha, the choice of heart and reason, for the passionate and the connoisseur.