Audio Technica - ATH-M40X
PA / Studio Headphones
with eco participation: 0,50 €
Added to the catalog on
29/01/2014
Professional Studio Headphones ATH-M40X Audio-Technica, excellent for mixing and monitoring
Advanced technology and robust construction

Transducers 40 mm diameter equipped with rare earth magnets and coils

copper clad aluminum

Frequency Curve flat for precise control over the entire frequency band

Earphones covering the ears for excellent insulation in

noisy environments

Earphones swivel 90 ° for easy control of an ear

Bearings from earphones and professional quality headband for

more comfort and a longer life

Detachable Cable (2 cables included)

45 mm Transducers

Neodymium Magnets

Coil CCAW (copper clad aluminum)

Frequency response 15 to 24.000 Hz

Maximum Output Power 1600 mW Input 1 kHz

Sensibilité 97dB

Impedance 35 ohm

Weight 240 g without cable and connector
This helmet is the most famous of the M-Series. Year after year, he received praise from journalists and the most renowned sound engineers.
Interchangeable components
Application
Studio headset, Broadcast headset, Portable headset, Home work headset, Gaming headset
Connectors
Jack male Stéréo, Mini Jack male Stéréo
User's advice PA / Studio Headphones
ATH-M40X Audio Technica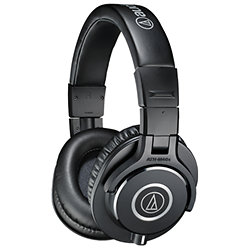 /5
12 User's advice
Repartition des notes
Cliquer pour filtrer
ATTENTION! Si vous voulez acheter ce produit, acheter premierement un amplificateur! Le son est trop doux sinon! Mais si vous avez un ampli ou une DAC ces casques son vraiment du top tier 10/10! Dans mon cas je ne savais pas qu'on devez acheter aussi un ampli ou une DAC au moment de faire ma commande donc je suis decu, mais bon, faudra en acheter une DAC ou un ampli.
Casque acheté pour faire du mixage en home studio, rendu sonore vraiment bon, confort d'écoute au rendez vous. Isole très bien de l'extérieur et ne diffuse pas de son lors d'une prise voix par exemple en studio. Pour le prix c'est un bel objet et un super rapport qualité prix
Juste l'arceau est un peu tendu sur les premières utilisations ce qui fait mal au crane mais ça passe vite.
très satisfait avec ce casque
Audio Technica - ATH-M40X
Audio Technica - ATH-M40X
with eco participation: 0,50 €
Added to the catalog on
29/01/2014
Founded in 1962, Japan's Audio-Technica is a leading manufacturer of AT4033, AT4041 and Artist Elite studio and stage microphones, AT2020 USB+ podcast microphones, professional wireless systems, ATH-M series headphones, AT-LP140XP turntables and DJ accessories. Developments such as Uniguard's anti-RFI technology, which protects microphones from WiFi, Bluetooth and other modern sources of radio interference, demonstrate their commitment to providing musicians and engineers with the high-quality sound they've come to expect.